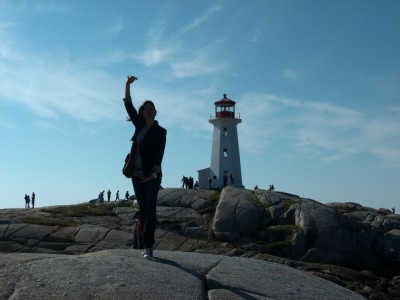 When I refer to "home" now it is all relative. When I say I'm going home when I am in London I mean a visit to Halifax/Dartmouth, Nova Scotia.  When I say home anywhere else I mean London where I am living at the moment.  So it all depends on where I am when asked really.  They say home is where the heart is, however I love where I'm from, as well London has captured my heart and imagination too.  One day it would be nice to get a balance and be able to divide my time between the two (winter in London of course).
When people ask me where I'm from, especially when travelling, it can be a tricky question.  If I answer London, England I  get strange looks due to the lack of English accent.   To cover it all I say I'm Canadian, living in London.  Next question is usually what part of London or what part of Canada.  People love to know where you come from.
I am proud of where I'm from.  Nova Scotia has played a part in shaping who I am, and I think for the better.  It was nice to hear on my visit home, from one of my oldest friends, that after almost 5 years here in London I've not changed.  I take that as a big compliment.
[![Enhanced by Zemanta](http://img.zemanta.com/zemified_a.png?x-id=b199d6f0-30e9-4436-af0b-69b3ba66a7a4)](http://www.zemanta.com/ "Enhanced by Zemanta")