I am currently working with ITV (a television network here in the UK) and couple weeks ago while at the studios in Manchester I had the chance to explore the Coronation Street set.  I watched Coronation Street for many years when in Canada, it is quite popular there with the young and old, the t0urs the actors do are very popular with the Canadians.
So the chance to poke around a place so familiar, and eat in the canteen with the cast members of Coronation Street made for a very exciting day! Who would have thought 5 years ago when I got on the plane to England that one day I would be wandering around Coronation Street.
Here are some of the cheeky photos I took with my iPhone while on the set.
Read More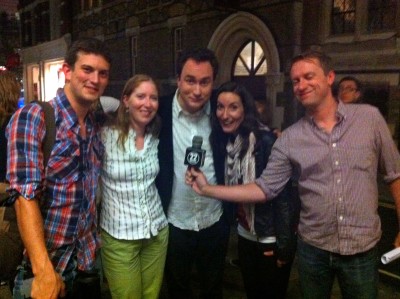 This week an email arrived in my inbox with the news that Mark Critch would be at the Maple Leaf Pub here in London talking to ex-pats for This Hour Has 22 Minutes.  I had planned on staying in after 3 very hectic weeks but my curiosity got the best of me and I decided to head down and check it out.
And I'm glad I did.  It was a great night, such a lot of fun.  I got chatting with some fellow ex-pats, and somehow ended up in front of the camera talking, and singing the national anthem!  eek!  I hope for the sake of my fellow Canadians you are never subjected to any of this footage! As my friends know I don't usually sing in public (and for good reason) but I was feeling oh so patriotic.
The photo above is myself, Mark Critch, Cynthia a fellow Canadian ex-pat and the crew from This Hour Has 22 minutes.  They were a great bunch, when I left they were in good hands being taken on Camden to further experience London night life. They have a busy itinerary taking them north to Manchester, then on to Ireland, so keep an eye open for them.
Those I was  hanging out with last night are part of a great Canadian Ex-pat Meetup.com group, it meets once a month at the Maple Leaf Pub in Covent Garden as well as other events through out the year like picnics and ice skating. It's a great way to get in touch with your Canadian roots and meet great new people.  I am looking forward to the meet up tomorrow and seeing some new familiar faces.
Read More