Sushi Making
Last month I learned to make sushi.  A pretty amazing thing for me because I remember when I was little and thought eating raw fish sounded so crazy.  Also did I mention I don't really like fish unless it is shellfish or fish covered in batter, fried with ketchup. My Dad used to ask me, "Would you like some fish with your ketchup?"  I come from the part of Canada where fishing is a major industry so perhaps I just had my fair share at a young age.  However it turns out if you  keep it raw and add wasabi I love it.
The lesson was at Yo! Sushi, taught by an instructor who was Chinese and had grown up with the tradition of sushi and she made sure to impart on us her and her grandma's tips on making sushi the right way.  First we our teacher explained that Sushi actually originates in China.  Then we got pointers on how to prepare the rice and finally it was time to get to the task.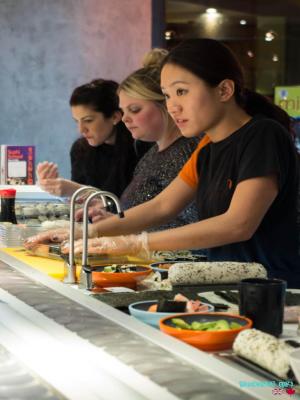 We had bamboo mats covered in cling-film and all the ingredients cut up for us (yes!) so we just had the fun part of putting it all together and learning how to use the bamboo mats to create the sushi rolls. We learned the techniques for making sushi rolls with dried seaweed (Maki Sushi) on the outside, on the inside, and wrapped like a cone. As well as my favourite  sushi, with no seaweed the Nigiri Sushi. I don't' like the taste of the seaweed and usually peel it off for tasting too much like fish.  There were lots of tips to learn but once you know what they are it all seems so easy.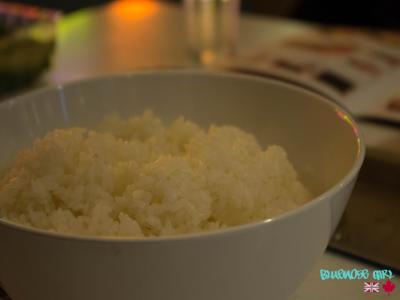 We got to take our mats home with us along with a little recipe book and I can see making it myself at home once all the ingredients had been gathered and prepared which seems to be the hardest part of sushi making.  It also seem best to make sushi in big batches so best to make some when you plan on having friends around.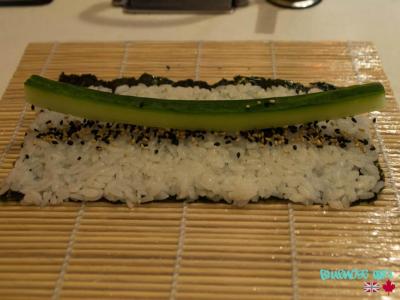 After we finished making the sushi (and eating some of it) our rolls were cut up for us and we got to take our creations home.  This meant  so it was sushi lunch and dinner for 2 days straight. It was a lot of fun, I actually could see making up a batch at home.  The lesson was a gift voucher for Christmas last 2011, yes it took a while to get around to using it but I now wish we had gotten to it sooner,  I could have been making sushi all this time!