The Village of Solomeo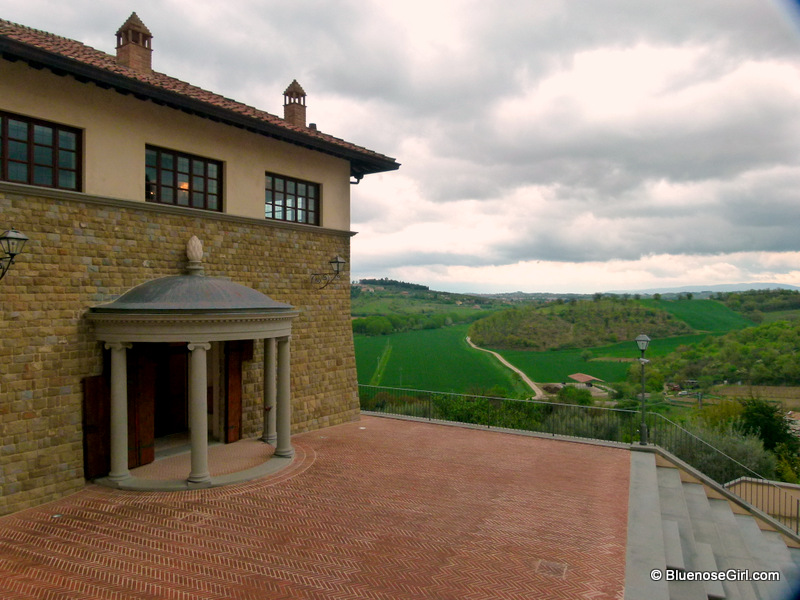 Solomeo Theater
What would it be like to renovate your hometown? Since my trip to Umbria, Italy where I visited the picturesque village of Solomeo, I've thought how nice it would be to redo even part of my hometown and give back to a place I enjoyed growing up so much.
Where would I get such an idea?  From the village of Solomeo, where I visited as part of my trip to the Umbria region of Italy.  While visiting the village I was shown around the Brunello Cucinelli Cashmere company headquarters and workshops,which are found inside a renovated 14th century castle.  Here I saw a company that does things a little differently. Brunello Cucinelli, 59, has renovated this medieval village of Solomeo, a little town of approximately 400 people, a large number whom work for his company, which also owns a great deal of the village.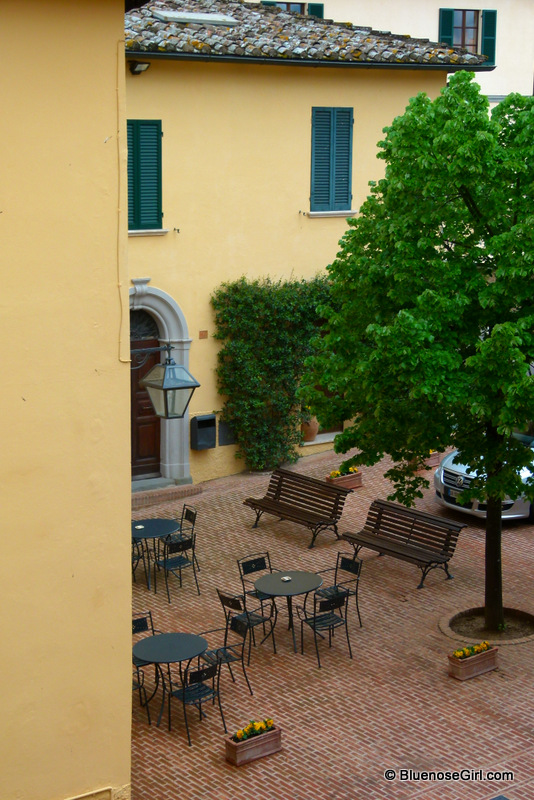 The then abandoned castle in the village of Solomeo was originally purchased in 1987.  Brunello has since bought other buildings in the village, as well as renovating the town square, church, recreation centre and has built a theatre, and a Neo-Humanist Academy including a library.  All caringly restored to their simple architectural style and with a high standard of workmanship.
This means the castle itself is a modern bright place to work while still keeping in character of the building.  A key factor in the renovations of  this building is to create a pleasant working atmosphere for it's employees.  One of Brunello's philosophy is to have trust in his employees  that they will be productive for the company, even if they are not clocked.  As well his company pays higher than the standard rate of pay, 20% more.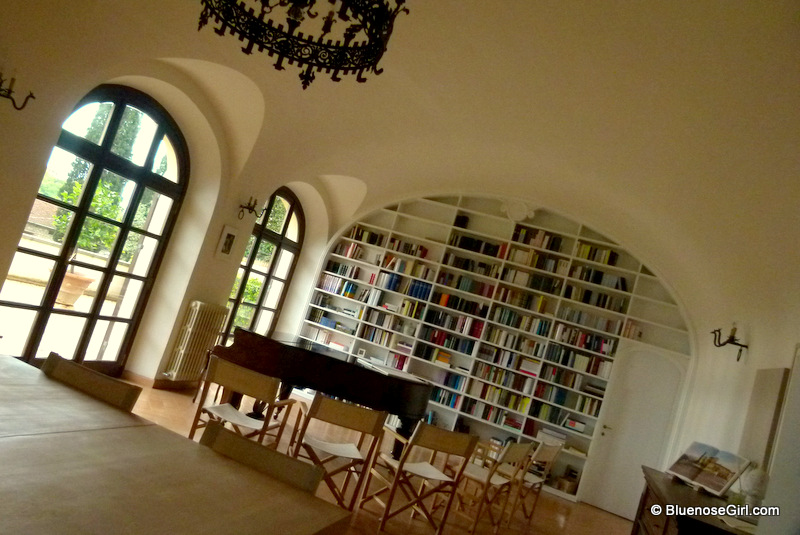 Neo-Humanist Academy Library
Who is Brunello Cucinelli?  He is a man  respected in the fashion industry for making some of the most high quality cashmere in the world. Using only the fibres from goat fur found on their neck, which are only combed off, never shaven. The designs of Brunello Cucinelli are that which gives new meaning to the world luxe casual. His clothes make you look effortlessly fashionable even when dressed down in leggings, tunics, sweaters and fantastic accessories, but at £800 to £1100 for a top or sweater, it may not be a label you are familiar with.
And are the employees happy? It's hard to say when you are traipsing through someone's work place and interrupting their day. PR was in charge during my visit,  those showing us around advising even they could not be quoted!  This is what made me question what I was seeing, it seemed overly staged and protected by PR.  The headquarters was quiet as was the picture perfect village. I would love to return to the village for an event at the theatre just to see Solomeo come alive.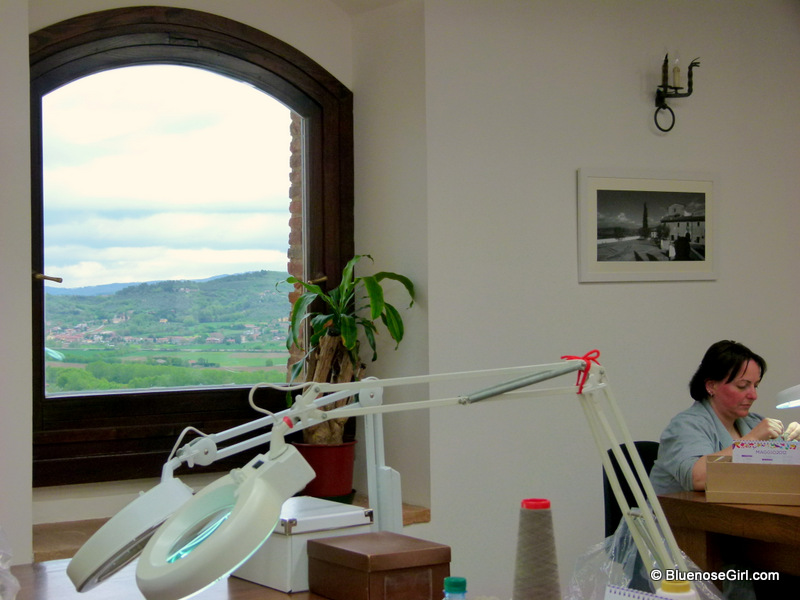 Brunello Cucinelli Workshop, what a view.
However Brunello Curcinelli's way of doing business, is not hurting his bottom line, which is a good thing for Solomeo and Umbria, seeing as 20% of profits the going towards The Foundation  which focuses on humanitarian pursuits such as the arts and sport.  Which is evident in the village's new theatre, and Academy.
Is it strange, and maybe even a little creepy that this company own most of this town as well as employs many of it's residents?  Possibly.  Or is it time to try doing things a little differently than the normal capitalist model?  Brunello Curcinelli's dream is to run a business where is employees have working conditions that are "humane" and "dignified" and to simultaneously "safeguard" the artistic and cultural heritage of the world is a lofty one.  This seems a better aim than most companies directors have, profits aren't everything after all.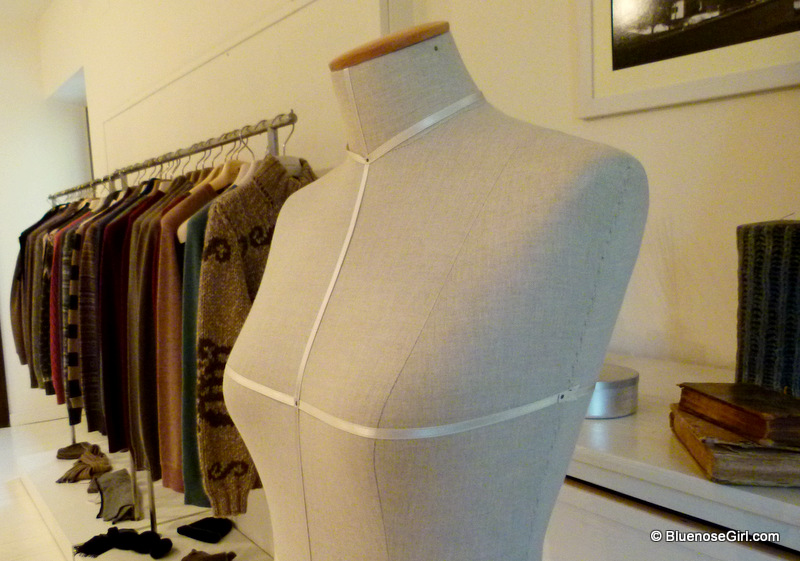 Brunello Cucinelli Workshop
On of the reasons I love to travel is to have my way of thinking challenged, as well as seeing how other cultures go about things.  The way Brunello Curcinelli does business as a humanitarian entrepreneur is an eye opener, and one that seems to work with a + 62% increase of profits in 2011 (forecast: about 29 million euros before taxes).  Lets hope it's a trend that catches on with other industries and entrepreneurs.