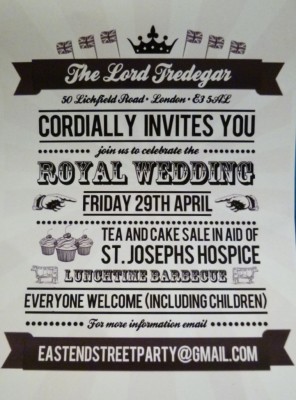 So 2 weeks from tomorrow (hear that Kate and William, 2 WEEKS!) there is a wedding, a Royal Wedding! For me personally this is very exciting. I remember Charles and Diana's wedding like it was yesterday. I was very young and it was 1 of 2 things that I believe started my fascination with the UK, and ultimately lead me to where I am now, living in England.
I have friends who are fleeing the city, others who are making the most of the 11 days off work (using only 3 vacation days), and have planned trips. I've taken the 3 middle days off work too, but I'm not leaving town. I want to soak up the atmosphere, say I was there when it happened, and experience the vibe of life in London when a Royal celebration is in full swing.
Royal Wedding Street Parties are being arranged all over the country (like the one in the photo to the left).  Again something I've never experienced and sounds so tremendously British.  So everyone get out there and let's show the world how a proper celebration is done!