While growing up in Nova Scotia travelling with my family usually involved camping and a visit to a living museum.  So I have fond memories of living museums, and I still enjoy them today.  I think it's a fascinating way to see how life used to be long ago brought to life, and usually there is some sort of food on offer.
On my recent visit to Nova Scotia I finally got to visit Ross Farm Museum, which is a very short drive from my father's cottage, located in New Ross.  We arrived at Ross Farm in the morning and was given the run down on what was happening on the farm that day. There was lots going on at the farm that day, barrel making, oxen shoeing, plowing the field, and baking. Along with lots to see including some very cute piglets and foals as well as sheep, oxen, and kitties. We started with a visit to the building showing a short video of the history of Ross Farm.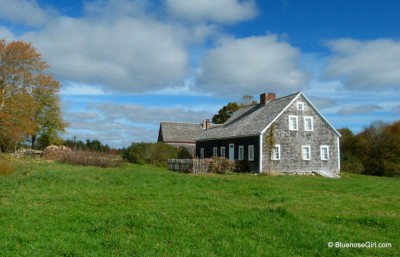 Ross Farm really captures what life was like in the 1800's in Nova Scotia, using all your senses from the smell of the animals in the barn, the more pleasant smell of wood in the farm workshop and gingerbread cookies baking in the house; the sounds of sheep, ducks, cow bells, and the blacksmith working; the taste of very yummy gingerbread cookies; the feel of strong oxen, handles of tools worn smooth over time, the roughness of newly made barrels, and creaky worn floorboards under foot in the almost 200 year old house.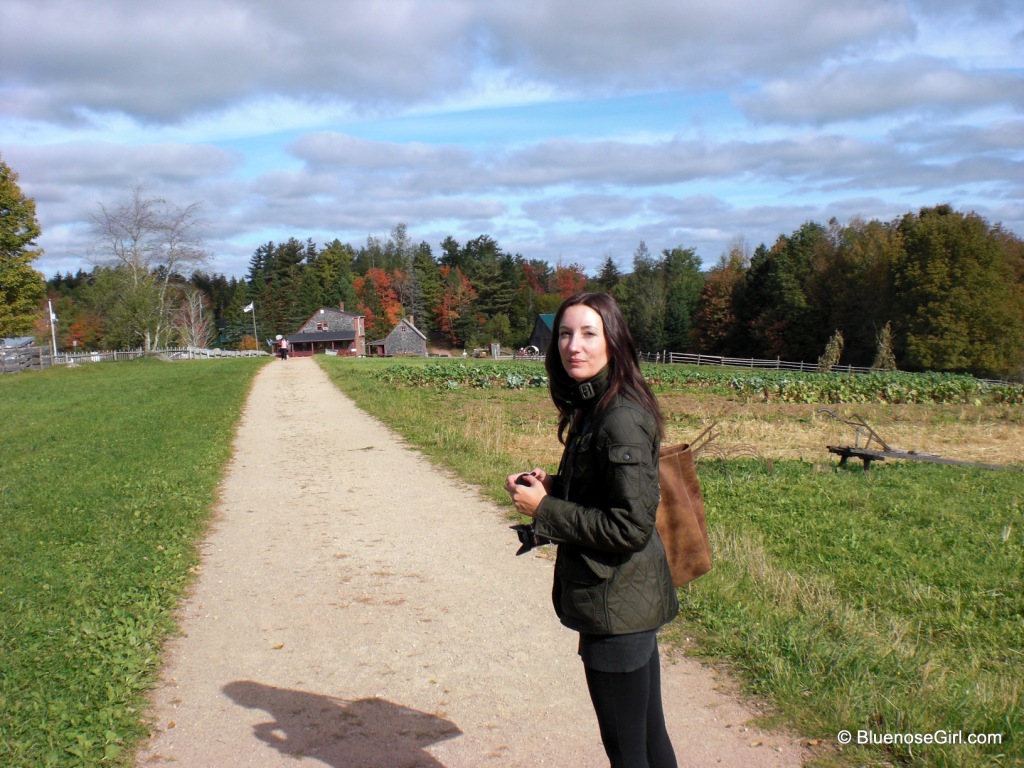 The farm covers a larger area than I realized, there are nature walks with interpretive trails of all different lengths.  It's a place a whole day could be spent taking it all in, going for walks, having a picknic, talking to the museum workers going about their day like it was the 1800's and stopping in the farm market shop for some fresh local food before heading home.
[![Ross Farm Plowing](http://res.cloudinary.com/bluenose-girl/image/upload/h_300,w_400/v1420455233/Ross-Farm-Museum-7_celvte.jpg "Ross Farm Museum (7)")](http://bluenosegirl.com/ross-farm-museum/ross-farm-museum-7/) Ross Farm is open year round (be sure to check the website for current [opening hours](http://museum.gov.ns.ca/rfm/en/home/visitus/hoursadmissions.aspx "hours")) with various events for the different seasons such as Christmas in the Country, Wonders of Maple Syrup and Food from the Hearth are just some of the many events through the year.  There's a [calendar of events](http://museum.gov.ns.ca/rfm/en/home/whattoseedo/ourevents/events/default.aspx "Calendar") listed on the Ross Farm Museum website.  Along with the events wagon rides in the summer, and sleigh rides in the winter both  popular with kids and adults alike. So if you are around Chester, New Ross, or the Vally area it's only a short ride to [New Ross](http://maps.google.com/maps?ll=52.395611,-6.945076&spn=0.1,0.1&q=52.395611,-6.945076%20(New%20Ross)&t=h "New Ross") to check it out.  If you are in the Halifax area, the hour drive is well worth the trip for a day at the Ross Farm Museum. [![Ross Farm Museum](http://res.cloudinary.com/bluenose-girl/image/upload/h_300,w_400/v1420455241/Ross-Farm-Museum_q8kcr0.jpg "Ross Farm Museum")](http://bluenosegirl.com/ross-farm-museum/ross-farm-museum-2/) [![Ross Farm Museum](http://res.cloudinary.com/bluenose-girl/image/upload/h_400,w_300/v1420455236/Ross-Farm-Museum-5_woaeg2.jpg "Ross Farm Museum (5)")](http://bluenosegirl.com/ross-farm-museum/ross-farm-museum-5/) [![Ross Farm Museum](http://res.cloudinary.com/bluenose-girl/image/upload/h_300,w_400/v1420455237/Ross-Farm-Museum-4_sdazl9.jpg "Ross Farm Museum (4)")](http://bluenosegirl.com/ross-farm-museum/ross-farm-museum-4/)
[button link="
http://eepurl.com/dmd1g"
type="icon" icon="mail"] Sign up here for weekly updates from Bluenose Girl.[/button]
[![Enhanced by Zemanta](http://img.zemanta.com/zemified_a.png?x-id=3e895041-e615-442c-a672-b38338b2dbcf)](http://www.zemanta.com/ "Enhanced by Zemanta")