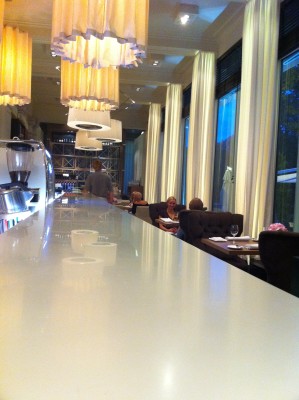 A week ago I was in Riga ahhh, seems so long ago now.  One of the fun, some times frustrating, and interesting parts of travel is the food.  Finding great places to eat (whether a restaurant with great atmosphere, or a beautiful spot in a park for a picnic), trying new foods, and trying old favourites as the locals make them is part of the adventure.
In Riga, once I met up with Lisa (my sister) and Peter, we went off to find dinner and ended up at a resturant Biblioteka N°1. I had been recommended by someone Peter knew to get us away from the touristy places. It was in the Vērmanes Park, a lovely peaceful setting, they have a large outdoor area which would be an amazing place to dine on a warm summer night.  I felt a tad under dressed in my converse sneakers, Biblioteka is an up-scale and trendy looking restaurant (not in a cold way though), but seeing as we were being seated and the staff didn't object to my footwear, I figured I should go with it.
The service is impeccable, the menu a seasonable one, the bread fresh, and the butter (especially the hemp infused) creamy and tasty. They call the food novelle Latvian, so traditional Latvian dishes with a modern twist.
We had a mini starter of fresh squeezed apple juice, very nice, and between the starter and main a palette cleaning sorbet was served.  I had steak for my main, it was cooked pefectly (I like nice medium rare). The steak was good but not the melt in the mouth kind I was hoping for.  Presentation was very nicely done, my sister's lamb came on a bead of medow grass (aka hay) and it did come to the table on it's on plate of grass which the lamb was then served from.   As a side I went for the mash, this was some seriously creamy mash, fluffy and flavourful too.
If you want to treat yourself it's well worth putting on your list of must do's in Riga.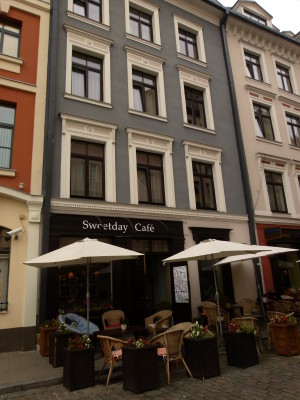 Another great place I enjoyed in Riga was the Sweetday Cafe in the Old Town on one of the streets off one of the main squares.  It has a nice outside area, and inside the cafe has a warm, modern meets classic feel to it.  It's a great place to stop for a light meal, or coffee and dessert, or a glass of wine and dessert. My cappicinno (photo at the bottom) with whip cream on top (very naughty of me) is a drink worth going back for.
Then there is Riga's Central Market behind the bus station, a short walk from the old town.  Well worth a wonder around.  They sell local fruit and veg, fish, meat, honey, knitted socks (I'm loving the pair I picked up).  There're stalls around the outside, and inside the hangers (the market is made of old German Zeppelin hangers), each hanger specializes in a different kind of food, the fish hanger being my least favourite phewy!  It is the largest covered market in Europe with more than 3o00 stands (I suspect Camden Market is nearing this!).  A great place to pick up some food for a picnic,  a souvenir, as wells as do some great people watching.