I came across a genius website called Nestio that I had to share with you. For anyone looking for a flat (especially in London) you know how hard keeping all the places look at straight can be. At some point they all seem to run together, and you find yourself heading out the door not sure if you are going to view the place with the outdoor space or the one with modern kitchen.
Nestio it keeps all the flats you find from different sites organized for you. You can add notes, view them side by side to compare, keep track of which ones you have viewings for and which you have viewed.  It allows you to share and collaborate with others (great for flatsharers).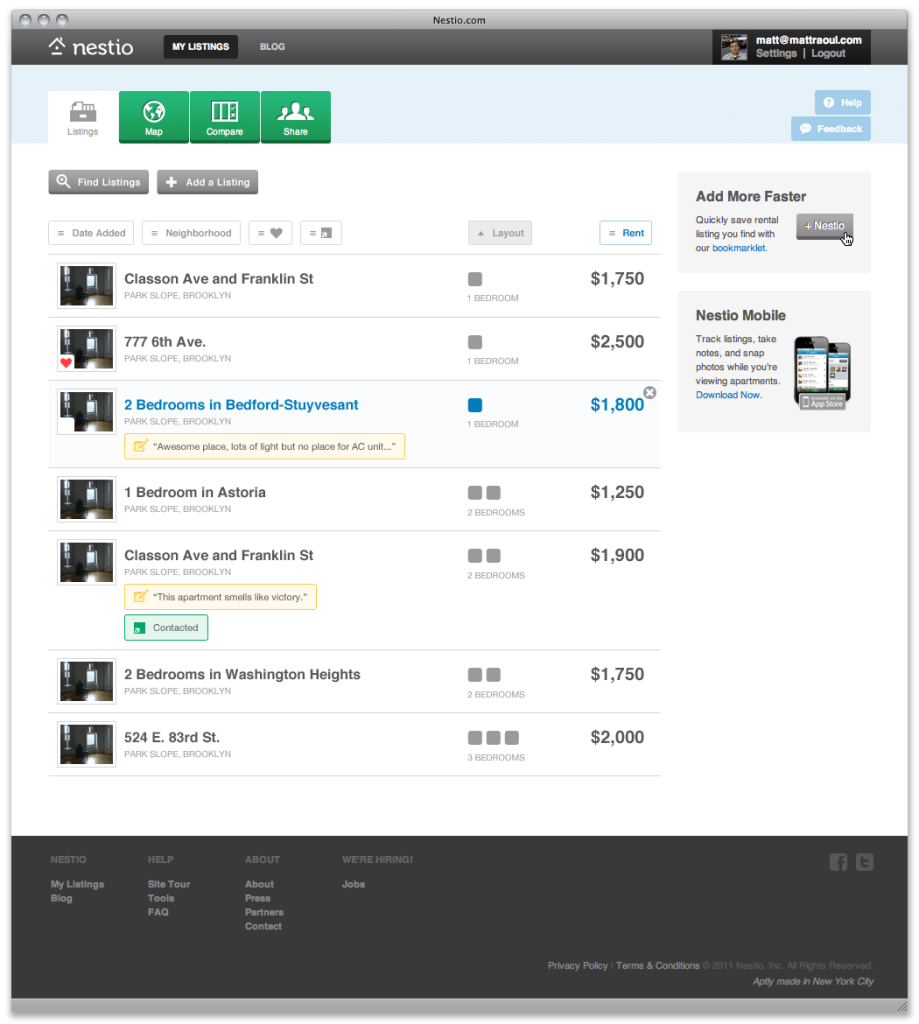 It is a US based site so there are some features that don't seem to work here in the UK yet, like the map and commute times features, but they are developing more features and expanding the ones they have so if you are outside the US I don't think it will be long before these features become available. Nor does it take away from what it does best, keep your search organized in one place.
One of the great features that makes it work so well is the +Nestio button which you drag into your bookmarks bar. Once the +Nestio button is added continue to browse listings on any site the way you normally do, when you find something you like, click the bookmarklet and the listing will be added to your Nestio account. You can even edit the listing and add notes right when you bookmark it, or make these edits on our website later.  If only I had this when I was flat hunting!
Be sure to give it a try, the interface is smart and intuitive, and of course there is an app for Nestio too.
[button link="http://eepurl.com/dmd1g" type="icon" icon="mail"] Sign up here for weekly updates from Bluenose Girl.[/button]