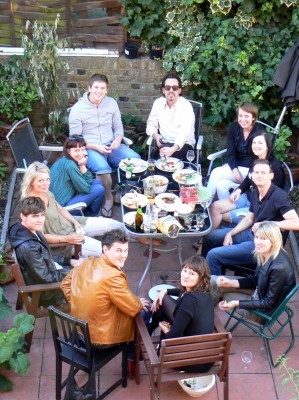 When you arrive if you are lucky you may already know people.  If you don't, not to worry there are lots of ways to reach out and meet people, but it does take effort and persistence.  It is well worth the effort, your social life will make your new life much more fun. You will get out more, have people to ask questions about your new city, and have a support network for when life throws you a curve ball.
Travelling
This is great way to get out and see England, Europe or even farther afield and meet new people. Especially good for meeting others from England are the various tours found in the travel section of the TNT Magazine.  Also Top Deck and Contiki tours of Europe are great for meeting others.  If you fancy a smaller more immersed tour then Intrepid are fantastic.  All 3 of these tour companies will take singles without charging you a supplement by pairing you up with another single (of the same sex), or for a supplement you can have your own room too.
On-line
In a previous post I mentioned Meetup.com, it is a great place to start.  There are meet ups listed for all around England, and a ton in London, give one or two a try.  It will give you a chance to meet new people and some of the groups are for people who have relocated and are new in town just like you.
Another great on-line site for meeting others with similar interests is CitySocialising.  It does cost money but I think that it is reflected in the effort and quality put into the gatherings and social events. As well there is the option for getting to know individuals and meeting up one on one.  It isn't a dating site, though you may find the occasional guy who loses focus and forgets this on a night out.  I like to mix up events, going to some nights out, and some of the less drink orientated activities. See what events and activities listed appeal to you, and what you would be most comfortable doing, then dive in.  You never know who you will meet, and that's part of the fun.
At Home
Where you stay when you first arrive in town can be a great place to meet people.  If it is somewhere that has common rooms, get in there and don't be shy.
If you are in a flatshare and you pick well you may find your flatmates end up being your friends too.  One word of advice about flatmates as friends, make sure you also make friends with others outside your flat. As convient and easy as having your flatmates as your friends it is worth the effort to expand your social network further afield.
At Work
Work is another place to make friends but each work place varies in how friendly or social they are. You may have to put yourself out there if there is someone you get on well with.  The good thing about offices in England is there are usually a group in the office up for a few pints after work now and then. Keep your ears open and don't be shy. Once you break the ice with the English they are a very lovely and friendly bunch.
While You Sweat it Out
If you are into a sport there are listings on Gumtree for teams looking for players.  There is also http://www.matchmysport.com/  and http://www.sportpartner.co.uk/for just about any sport you can imagine or for those looking for a gym buddy.
Making friends when you are younger is something I took for granted.  As an adult in a new city it takes more effort than just showing up at school everyday.  Some you meet will become acquaintances, some will come and go, and if you are lucky like me you will make new life long friends.
[button link="http://eepurl.com/dmd1g" type="icon" icon="mail"] Sign up here for weekly updates from Bluenose Girl.[/button]