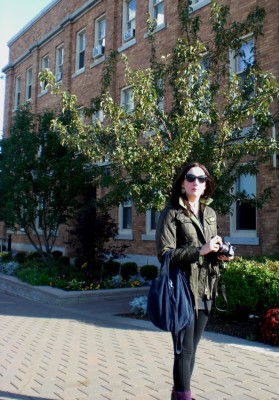 This winter is my 5th winter in England, and it has been a pretty mild winter so far. This is the year I finally caved, you could say I am assimilating to my new culture, and bought my first pair of leggings. As well I have embraced wearing tights (usually black) with everything, and I am enjoying it, tights are warmer and more comfortable than I remember, perhaps it's the fact that cold here is 5C, not -5 with a windchill of -15, in which case tights don't do much for protection from the wind and bitter cold winters of Canada.
As far as leggings go I have pulled together some looks that I think look smart, don't make me look like I'm in maternity wear, and paired with a cute pair of boots I am comfy and stylish. A win win situation, I'm not sure why I put off buying a pair for so long.  For the Canadians reading this it turns out there are fleece lined tights, brilliant idea!
Wearing opaque tights just opens up all the skirts and dress I wouldn't normally where in the winter, or any rainy spring/summer day.  So suddenly I have doubled my wardrobe, which is a great thing because due to the lack of storage space here in London getting new looks out of clothes I already have is key!
There are other ways in which how I dress has changed, layering has become key.  In a day you can go from the hot crowded tube, to a rainy wet walk, then suddenly the clouds clear and it is warm and sunny. Some days in London I have experienced 3 season all in one day.  I have very few "summer" or "winter" clothes like in Canada, as in clothes I store away when they are out of season.  Instead it would now look something like this; layer a long-sleeve top under a summer dress, add some tights and boots, and probably throw a sweater on top.  Winter sweaters become jackets in the summer and cashmere is always a good light option (and my favourite kind of sweater) for throwing in your bag when you just aren't sure if the dark moody looking clouds in the distance are going to head your way.
However much I have adapted to the English climate, and as much as I like the options leggings and tights have given me, you won't find me wearing them on a hot summer day under my shorts, that's a look I just don't understand… or maybe it will take me another 5 years to understand, you never know!