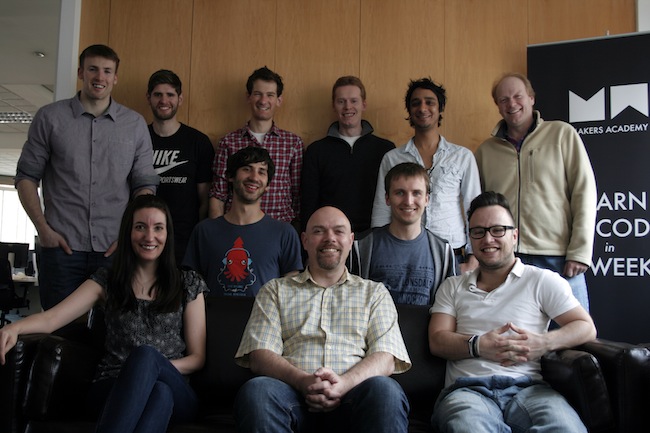 So things have been quiet here. The 10 weeks at Makers Academy spent learning code was pretty intense and left my brain with little ability to write coherent English. People have been very curious about my experience so I thought I would write a post reflecting back my 10 weeks at Makers Academy and I have some questions asked by Jean in a comment on a earlier post.
First of all can you learn to code in 10 weeks? Unlike some others in my cohort I had no previous computer programming background except some self taught HTML (in 2000) and my interest and dabbling with computers. Now I can write code (in Ruby) I know how to work with version control (using Git), work with frameworks (such as Rails and Sinatra), deploy to Heroku, work with external API's and relational databases. What does all of that mean? It means I can create a web application. Most importantly I know when I get stuck how to get unstuck and move forward. However there is still a lot to learn and hard work ahead.
In fact Makers Academy has moved to a 12 week model and have added a heavy pre course training load onto those accepted into Makers meaning by the time one finsished they will have spent more like 4 to 5 months leanring to code.
1) Would you do it again?
Absolutely! It was 10 weeks of hard work but I enjoyed almost every moment of it. It was engaging, challenging and interesting.
2) Were there any downsides/negatives to the course?
For me the only negative was that I was in the first cohort and as expected there were some kinks to iron out and a learning curve for the instructors. At times I was left feeling more self-directed than I would have liked, having to decide what to focus on when choosing a project, which I found to be a tough choice being that everything was new to me. I knew that I was in the first group, when signing up and so it was expected, as well it was interesting to see a lean startup in action.
Those joining the course will benefit from the learning curve gained with the first cohort. Improvements are still being made with each cohort (keeping the feedback loop short and learning from each, you can read more about it on the Makers Academy Blog)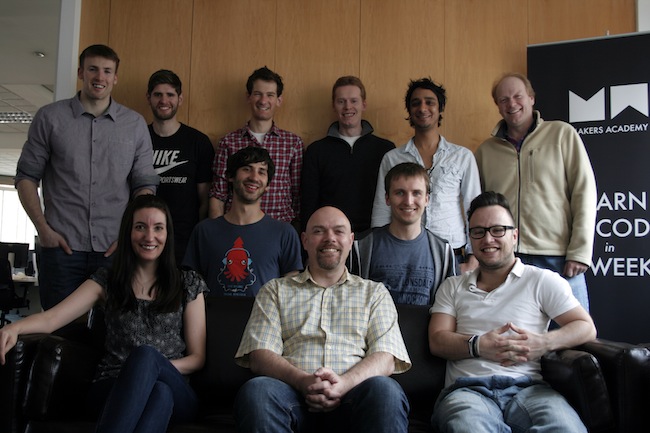 3) Could you have learned the same material on your own?
I believe I could have learned with the various online tutorials, blog posts, screencasts etc. however it would have taken me a lot longer to learn what I learned in 10 weeks at Makers had I tried to learn it on my own. I suspect if I tried to learn on my own part time while working full-time it would have taken at least 18 months (probably more) to get where I am now and it would have been a much more frustrating experience which could have been off-putting.
Taking 10 weeks to truly focus on something makes a big difference to one's learning curve. I found this out when I was 19 and spent 5 weeks one summer in a French immersion program. I learnt more during those 5 weeks than 10 years in the classroom. I was surrounded by French 24/7 in practical situations (like if I wanted the ketchup I had better figure out how to ask for it!) and some classroom instruction (all in French of course).
Makers Academy was very similar to this. We learned to code by spending as much time as possible working with code. We pair-programmed and worked on group projects to gain as much practical experience in different aspects of life as a developer as possible. The instructors made sure to leave us to figure things out and get unstuck ourselves only stepping in to guide us when asked. There were lectures mixed in to build up our understanding of topics and table tennis to teach us to take breaks to help think more clearly (I'm still terrible at both TT and taking breaks).
4) What happened after graduation? Did you go into Makers hoping to get a job with one of their hiring partners, and were there quite a few recruiters at graduation/hiring day?
Unfortunately I was not there the last day, I had a wedding in Ireland to attend. Irish weddings == a great party, which after 10 weeks of intense study was just what I needed. I understand there were a number of the hiring partners there that day. Also during the course the hiring partners stopped in on occasion to pair with us, sit in on a lecture and speak to us themselves. I met with one of the partners during the course but unfortunately they were looking for a front-end dev and at this time I would like a back-end role with the intent to build up to full-stack over time.
For me this is a career change . Taking an area of my life that has always been an interest and hobby of sorts and taking it to the next level, making a career of it.  I'm certain I am on the right path after many years of looking for a challenging career that I could really enjoy and grow with.  Being a developer will be an ongoing learning experience and with the changes in technology it will be certain to get even more interesting.  So the experience isn't over until I secure my first real life position as a developer.  In the meantime I continue to practice coding and learn as much as I can while also getting out to meet those in the London tech community. I will be sure to update you on the next stage of my new career.