Last night I attended a kitchen party in London. While a kitchen party is something I'm familiar with being from Atlantic Canada, I had a couple of interesting firsts last night as well. For those who haven't heard of a kitchen party, they are casual gatherings of friends and neighbours involving good food, good music, and good times. They're called kitchen parties because everyone usually ends up gathered in the kitchen where all the food is.
For the Atlantic Canadian kitchen party in London no detail was too small. Musicians (playing some foot stomping ceilidh music) and a great MC (Kelley) along with oysters were flown in from PEI, there was Iceberg vodka served over iceberg ice from Newfoundland, wine and whiskey from Nova Scotia, lobster from New Brunswick, along with scallops, shrimp, seafood chowder and much more from all over Atlantic Canada. Mix in a group of people interested in this special part of the world and you have a great evening.
At this kitchen party I had my first lobster, which will surprising many who know I lobster because Nova Scotia where I'm from is where the best lobsters come from.  However I'm not a big seafood person, and lobster always looked a bit too complicated for me!  Last night was my chance, I tied on my bib, cracked into that lobster and well, I made a mess! It was good, but not quite as hard as I thought it would be.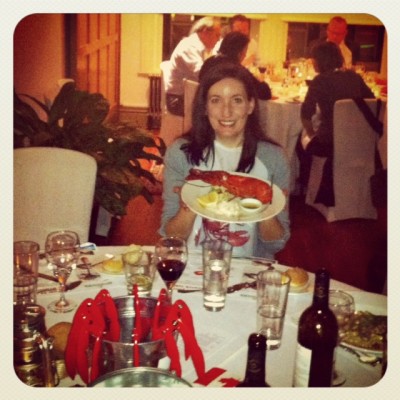 I also shucked my first oyster, after being kitted out with an oyster shucking knife and a special chain-mail glove to protect my  hand.  I managed to shuck my oyster in 34 seconds flat! Not the fastest time of the evening though that was 13 seconds! It's harder than it looks, the experts really make it look easy.  However it tasted all the better having shucked it myself!
The last first was Iceberg Vodka, what  was really special about this drink is that it was served over iceberg ice! The iceberg ice was brought over from Newfoundland. Erin who was the Newfoundland representative for the evening explained to me that iceberg ice is really cold, so it is great for drinks. She also explained in Newfoundland they don't ever buy ice.  They use the iceberg ice that floats to shore and fill their freezer with it for when they need it.