UPDATE: I've recently changed phones and now use the OnePlus ONe which also has a 5.5" screen and I'm happy to say the Grip Tight works with it well too, even in the case I have for it.
It's been a while since I've written a gadget post and I have a new little wonder I thought I'd share with you.  It's the new Grip Tight Micro Stand by Joby.
I am a big fan of the GorillaPods by Joby.  I have a small one for my small cameras as well as a larger one for my bigger ones.  When at the Gadget Show in London last month I came across the Joby display and found their new Grip Tight Micro Stand which was exactly what I was looking for my new phone the "phablet" Galaxy Note 2.    This little stand will pretty much fit any smart phone, iPhone, Android, Windows or Blackberry, even with a case on.  This is great because if ever you change phones it is one less accessory you will have to replace.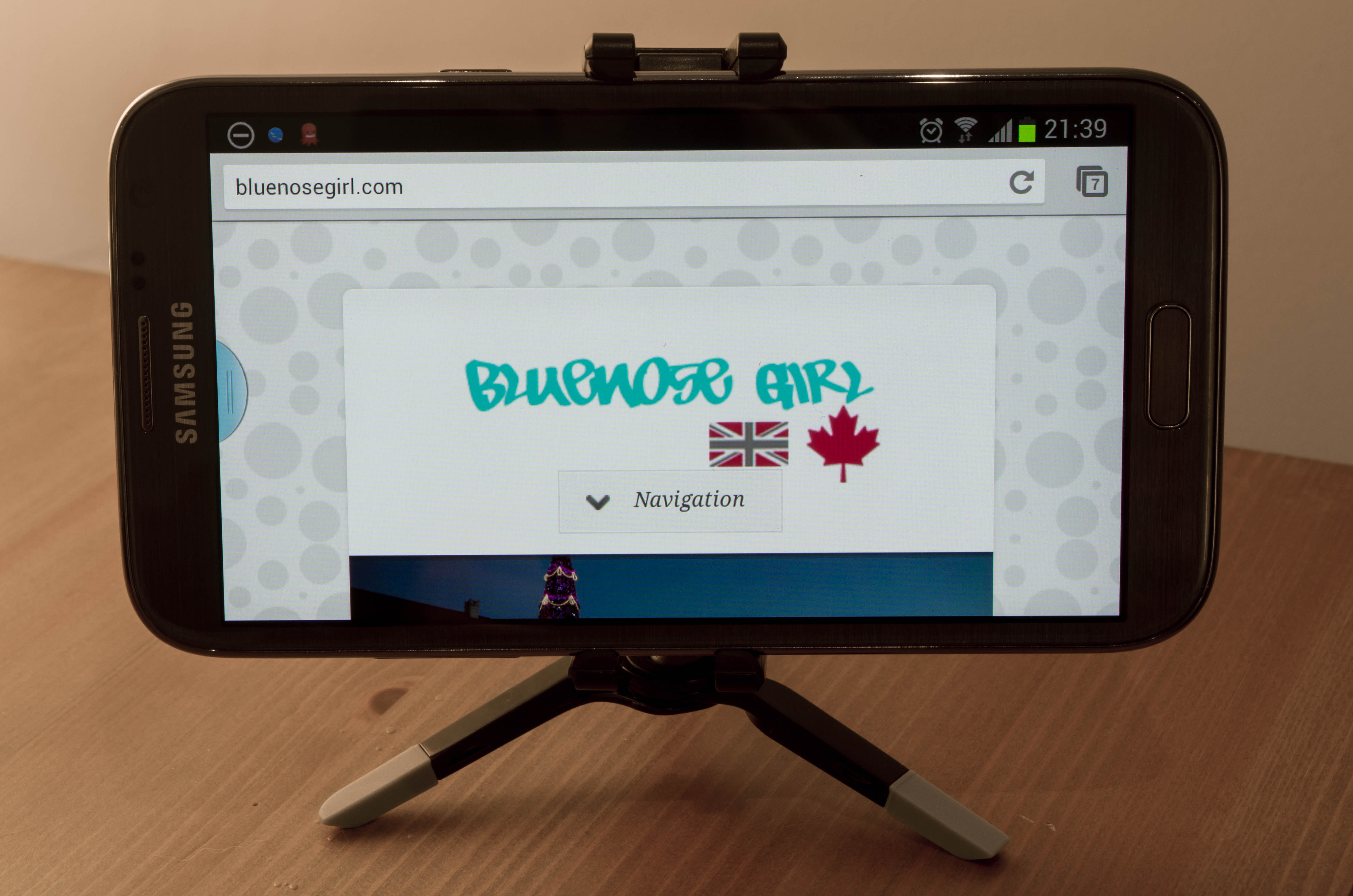 My Galaxy Note 2 in the Joby Grip Tight Micro stand.
I like Joby for the attention to detail they give to their products.  This one allows you to take the micro stand off the grip and mount the grip to any size tripod that uses a screw head (1.4 – 20″) letting you take advantage of the great camera on some phones.  As well the whole thing folds up into a compact tiny slip in your pocket size which you can also attach to a key chain or carabiner.  Anther great design feature is when on the stand the phone can be tiled to the angle that suites your sitting or lying position.
You can use the Grip Tight in many ways such as making videos, Skype calls, general hands free calls, group photos you want to be in, reading, watching YouTube or other videos or for keeping your phone on your desk to keep an eye on your twitter updates or other feeds.
Should you not need or want the micro stand the Grip Tight is available on its own as well. It is due to be widely distributed in the UK from February, so keep your eyes open for this itty bitty gadget.  In the mean time you can see details here or check out this video: