I think Royal Mail here in England is great.   If I mail something first class to someone  they will have it the next day, THE NEXT DAY, amazing! Coming from Canada where a letter in the same town can take 3 days to be delivered, and across country up to 2 weeks (despite what the  Canada Post service standards say) this impresses me.  Though it is a smaller country the volume is a larger.  As well here in England you get mail delivery on a Saturday, which I love.  Even better, for me, I am now located a 1 minute walk from my local sorting station so if I miss a parcel it's easy to run down and pick it up.  For those not as lucky  redelivery can be arranged on-line, too easy.
However the place where you go to post a parcel or buy stamps, the Post Office,not so great. There aren't enough locations, and they aren't open at times that are very convenient for the average worker. Most times I've been in one it has been chaos and the lines long. Postage can be bought on line and printed at home now, I must learn how to do this, so as to avoid the Post Office forever.
I also love the red postboxes, which you can find in the most unexpected places, like this one in the side of a wall on a country lane in Devon.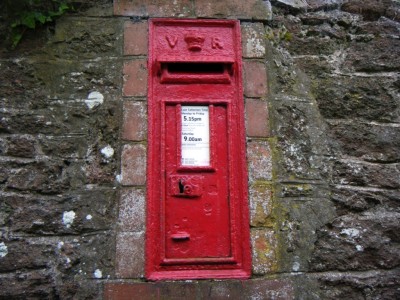 [button link="http://eepurl.com/dmd1g" type="icon" icon="mail"]  Sign up here for weekly updates from Bluenose Girl.[/button]