Surviving 13 hours on a plane is a mindset. Unless you're lucky enough to be traveling in business or first class you will find yourself in a small crowded seat where your food choices, leg room and ability to move around are limited.
However things have improved greatly over the past decade with in seat and on demand entertainment systems, ebooks, smaller laptops and tablets. Entertainment isn't in short supply and you have control over what you watch and when you watch it. A huge improvement over the old days of trying to see one of the little hanging screens to watch a movie you probably were never that keen to see.
Here are the things I bring with me in my carry-in to survive long haul flights broken down into 2 categories, entertainment and comfort.
Entertainment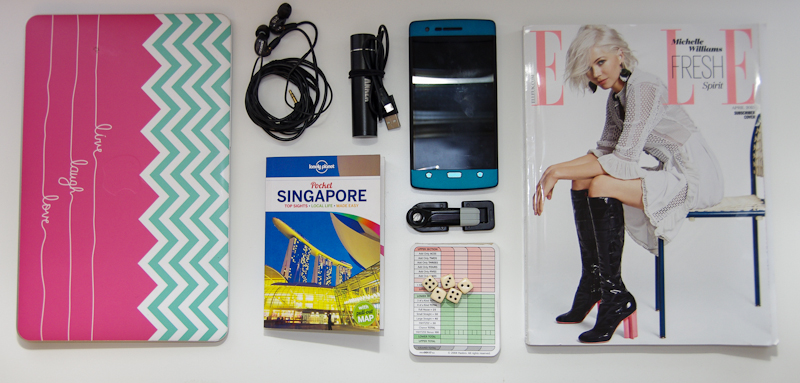 I like to use my flying time to catch up on my reading, including any guide books for my destination. For this trip I have a selection of ebooks both fiction and nonfiction and some magazines for when I'm too tired to deal with full pages of text.
I also like to use the time to catch up on my writing and I'm looking forward to getting a few blog posts I've been wanting to write under my belt before I land.
Then there are the movies offered by the inflight entertainment system. Being the planner that I am I've already checked out the airline's web sites to see what will be on offer and there are a few movies I've been meaning to watch so I'm looking forward to a good movie or 2 this trip.
This trip I have a new pair of earphones which are noise cancelling. These fit under both comfort and entertainment because I find the drone of the engine hard to sleep through and at the same time the noise exhausts me. So I've made sure to have some good tunes on my phone to keep my energy up and ears happy during during my flights.
If all the movies have been watched, books and magazines read or if all the batteries have been exhausted on my devises there is always Yahtzee on hand to keep us going.
All in all keeping entertained for the 46 total hours I'll be in the air to and from Australia shouldn't be a problem.
Comfort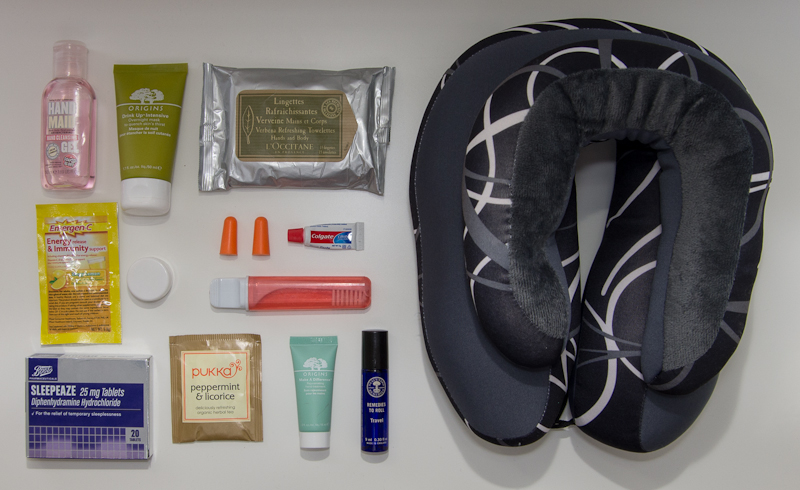 The other concern on long haul flights is comfort. I have a few things which I find help make me feel a little more human through out it all. Nice wet wipes for washing my face and feeling a little refreshed because it's seldom you get the lovely hot face clothes the airlines used to hand out. I also like to use an really good face moisturiser, hand cream and lip balm.
The lip balm also doubles as a germ keeper outer (that's a technical term) by rubbing the lip balm around my nostrils I help give my body some defence from the germs in the cabin (if you want to know more about this you can read about it here). Also to keep from catching anything I use hand sanitiser, the one in the picture from Soap and Glory is also nicely scented. Lastly on the germ front I make sure to try and boost my immune system some vitamin C.
For long haul flights I make sure to have a neck pillow which helps keep me comfortable as I try to get any sleep I can. This along with ear plugs and sleeping medication (if I'm really desperate) are a big help.
When it's time to "wake up" I have a toothbrush, a little toothpaste and some travel aromatherapy roller ball from Neil's Yard to help perk me up.
So with enough to do, enough to keep entertained and some creature comforts, surviving 13 hours on a plane becomes much more bareable.