As a tourist we've all been there, hungry in an unfamiliar place. Unsure where to turn you end up in a tourist trap charing too much for mediocre food. With a little research before your trip you can arm yourself with options at your destination to help avoid the frustration and let down.
On a recent trip to Florence my sister researched some options and mapped them out on a paper map of the city making sure no matter what part of town we were in we would be a short walk away from a decent option including Brac a Lonely Planet recommondation in Florence.  This little restaurant proves gems can be found in unlikely places.
Behind this unimpressive door….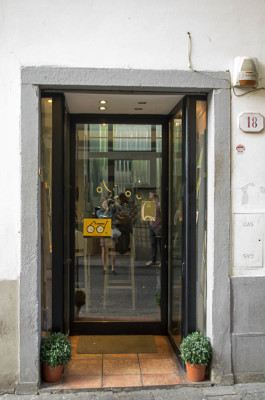 Through a bar area, on through a courtyard (a great place to relax with a drink)….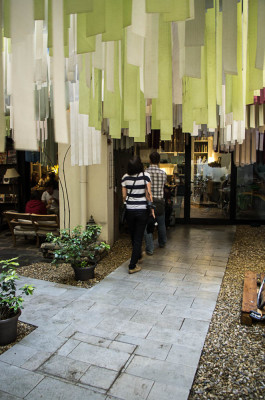 We found ourselves in this lovely bookstore come restaurant with the friendliest most accommodating staff in Italy.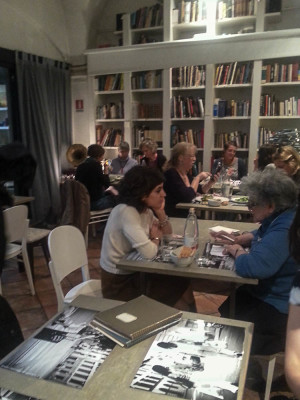 We were served some very tasty, fresh, flavourful and reasonably priced food. Below you can see my sisters curry pasta dish. Brac is a vegetarian restaurant, none of us are vegetarians but there were great options on the menu and no one was disappointed or hungry when we finished. The small restaurant was full of locals on their lunch, it was a lovely atmosphere, relaxing with tables that are well spaced (by European standards). If you should get there and have to wait for a table as we did (only 15 minutes) it is well worth it.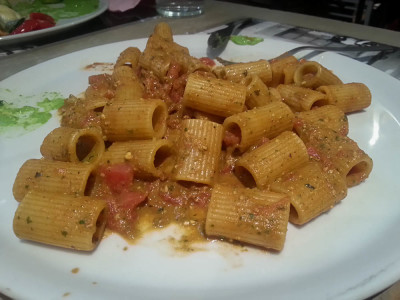 All our restaurant meals in Tuscany weren't so memorable, in fact we even got served microwaved pasta in at least one restaurant. At Brac in Florence we had such a great experience and it made life so much easier having a place nearby when we were hungry. I'm going to make sure to make more of an effort and take on my sister's approach of mapping out some options, especially when travelling in bigger or more touristy areas.
Some apps and sites that are great for researching restaurants:
Triptease – travel curation site, a great site to collect trip ideas with some great insider tips
Foodspotting and Yelp – review sites, both have websites and mobile apps, so you can find out what the locals say.
Lonely Planet – Not only can you check out their restaurant recommendations but you can post on their forum Thorn Tree asking for recommendations.
Finally be sure to ask those you know for recommendations as well as those on Facebook and Twitter. Even better if you know a local ask them, my best travel food recommendations in Rome came from my friend Linda the owner of the Beehive accommodation in Rome.