IKEA brings back memories of my childhood. You see the city where I come from was chosen as the test market for North America, ball room and all (do they still have the ball rooms?).  They decided North America would be a good market, closed the test store and started opening up across North America, except in my city.  For years when I could get my hands on a catalogue I dreamed up how cool my house would be if only my city had an IKEA. Then they offered shipping, all you could order for $40! I made my share of orders over the years that offer was on.
Now I live in London, where there are 2 IKEAs, I've dabbled in IKEA over the past 4 years limited by lack of a vehicle and by living in furnished flats.  Now I am in my own unfurnished flat, so off to IKEA I went.   One of the purchases I made was to help me out with my 30 Day Project, the LEKSVIK desk.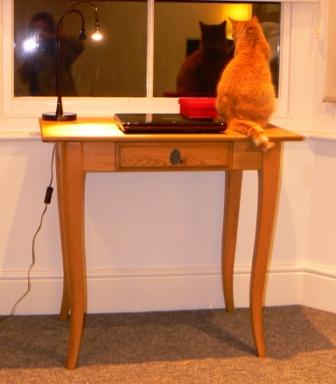 In Canada I had the bigger version which I painted white and used as a vanity table.  It is a classic shape and great for fitting into a lot of different spaces.
IKEA's business idea is to "offer a wide range of well-designed, functional home furnishing products at prices so low that as many people as possible will be able to afford them."  I think they do this and do it well. It is a matter of picking the pieces that fit your space and style.