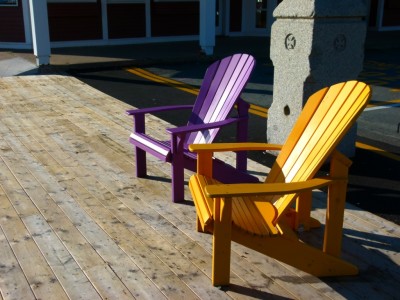 In Canada many people are lucky enough to have a second property to go to on the weekend and for holidays. A place to get away from the city life.   Muskoka in Ontario, 90 minutes north of Toronto, is one of the most famous cottage countries in Canada.  It's known for drawing famous people to it's lake shores over the years, including Steven Spielberg, Clarke Gable and Tom Cruise. There is even a chair known as the Muskoka chair as seen in the photo to the left (aka Adirondack chair after the National Park in the area).
However there are cottages of all types scattered around Canada, from little shacks used for shelter for fishing and hunting to extravagant lodges in the Canadian Rockies. Most are on or have access to an ocean, lake, or river for recreation.  One thing all cottages are about, no matter how big or small, is getting away from it all and enjoying nature and the natural beauty Canada has to offer across the country.
In my family my father has a cottage which he bought the land for when I was 12.  Weekends became time for chopping down trees and burning bush to clear part of the land for the cottage my dad was going to build.  Then when the building started there were nails to be hammered and sawdust to be swept.  So while my dad pretty much single-handedly built the cottage, the family pitched in to help.
My Dad now has a lovely relaxing place to go and the satisfaction of knowing he built it. It's an ongoing project with landscaping improvements going on at the moment, and most recently finished, was a boathouse . Now this is not roughing it kind of cottage, there is stereo which has been hooked up for surround sound, and an 8-track player!  There are also the bed (with a very comfy mattress) and  TV and DVD I contributed when leaving the country. There are movies, books, magazines and boardgames for chilling out, and even secret liquor cabinet hidden in the wall. It is a fully equipped cottage, the only thing missing is a dishwasher (I must remember to point that out).
When I'm in Nova Scotia I am lucky enough to get to use the cottage, whatever the time of year as it is winterized (except for the plumbing). Every season at the cottage has it's advantages and disadvantages, early summer can mean lots of black-flies, winter means having to walk in from the highway because road access can be dodgy when there is snow or ice, but it also means a roaring fire to keep warm, tobogganing and skating, fall (my favourite) means warm days, and cool nights, perfect for hiking and road trips around the area.
There is nothing more relaxing than sitting by a crackling fire, sipping  Bailey's from a mug, stargazing, and just enjoying being away from it all surrounded by nature.