Saturday I was invited on Best LDN Walks Christmas Shopping Tour London.  I've enjoyed all the walking tours I've taken of London they get you into the nooks and crannies of the city where there's always something interesting to see, even for those who aren't tourists. This walk was sponsored by Curry's who provided us with wearable tech so we could see how many calories we might burn while shopping. The tech I wore for the walk was a Fitbit. Shopping, London and gadgets, a match made in heaven.
This particular walking tour incorporates sampling the finest gin from a 16th century liqueur shop, tasting cheese from London's oldest cheese shop, nibbling on the Queen's favourite chocolate, stepping in the footsteps of Winston Churchill in his Cigar shop, and checking out the finest hats and fascinators in the world's oldest hat shop and more. The walk is only £8, which is money well spent.
Our first stop was at the Charbonnel et Walker chocolate shop, the Queen's favorite chocolate is sold apparently sold here.  Coincidentally they sell my favourite chocolate as well the Pink Marc de Champagne Truffles. Soooo good.  At £12 a box it's a treat but one that's affordable.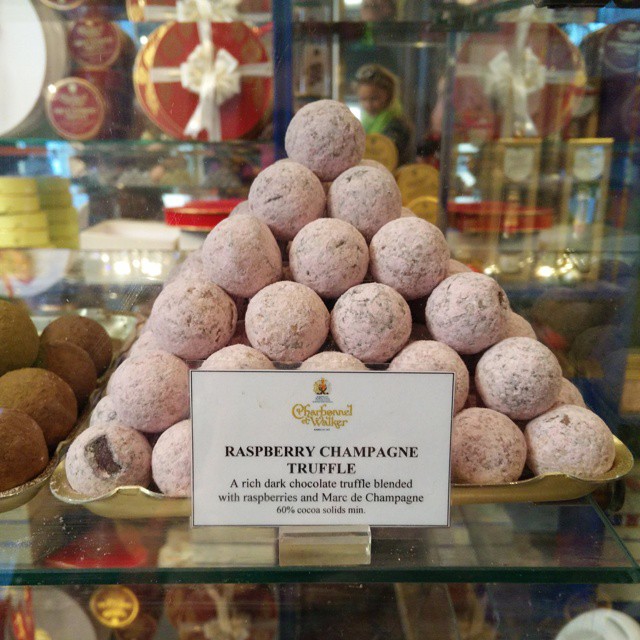 The area we were touring was just a stones throw from Buckingham Palace and most of the shops we visited hold Royal Warrants which are granted to people or companies who have regularly supplied goods or services for a minimum of five consecutive years to The Queen, The Duke of Edinburgh or The Prince of Wales.  You may have seen the words 'By Appointment' along with the Royal coat of arms displayed on products from companies who hold Royal Warrants.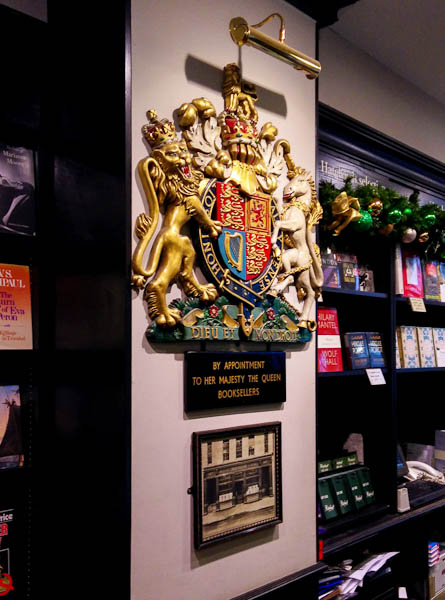 Half way though our walk we stopped of in the Red Lion Pub (Crown Passage).  By this point in the tour I did a quick check on the Fitbit app and apparently had burned enough calories to earn myself a glass of mulled wine, my first of the season. This small pub has been around for 300 years and retains a lot of its old fashioned charm (no loud music here). When I walked in I had the feeling that I'd stepped into a local pub somewhere in Cornwall or Devon.  The carpet, the decor, the unobtrusive bar in the corner and the dogs all gave it a country pub feel.
The next stop was wine merchants Berry Bros. & Rudd the most fascinating shop for me.  A shop owned by the same family since the it opened in the 1600's selling exotic spices, tea and coffee.  Which means it has been open longer than Canada has been a country, very impressive to a Canadian.  Little of this shop has changed since opening except the barest of modern essentials such as electric lights. You can see in the photo below how the original shop front has been preserved over time.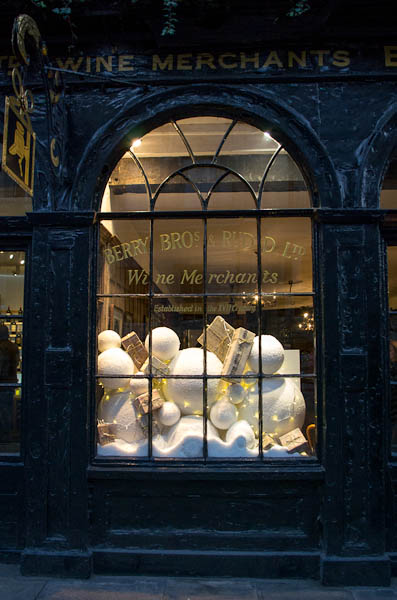 The shop is very proud of it's history and has interesting artefacts and documents from over the years on display. It was due to one these artefacts we learned how the shop's clientele (in the 1700's) were offered the perk of weighing themselves on the coffee scales which are on display. Berry Bros. & Rudd were suppliers to the the Titanic and they have a copy of the letter from White Star Line apologizing for the loss of 69 bottles of wine due to the sinking of the ship.
Before leaving we were given a taste of King's Ginger, a gin infused with ginger and lemon, which was formulated for King George VI in 1903 and "has been appreciated by bon viveurs, sporting gentlemen and high-spirited ladies ever since".  I can confirm it is a very nice drink on a winter's afternoon.
If you aren't in London and would like to take a peek into this fascinating shop they have an online virtual tour here.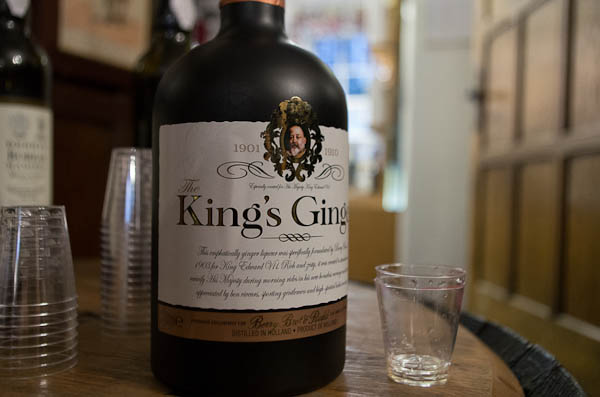 Off we went next to see Lock & Co hat shop which also opened it's doors in the 1600's (it's the oldest hat shop in the world) where the bowler hat was invented and where Sir Winston Churchill, Chaplin and Lord Nelson all shopped.  Upstairs they have a stunning collection of hats for women.  The hat boxes at Lock & Co will set you back £60, so I didn't dare even look at the price of the hats I liked.  Lock & Co's understated Christmas window display with more stunning hats was my favorite of the day.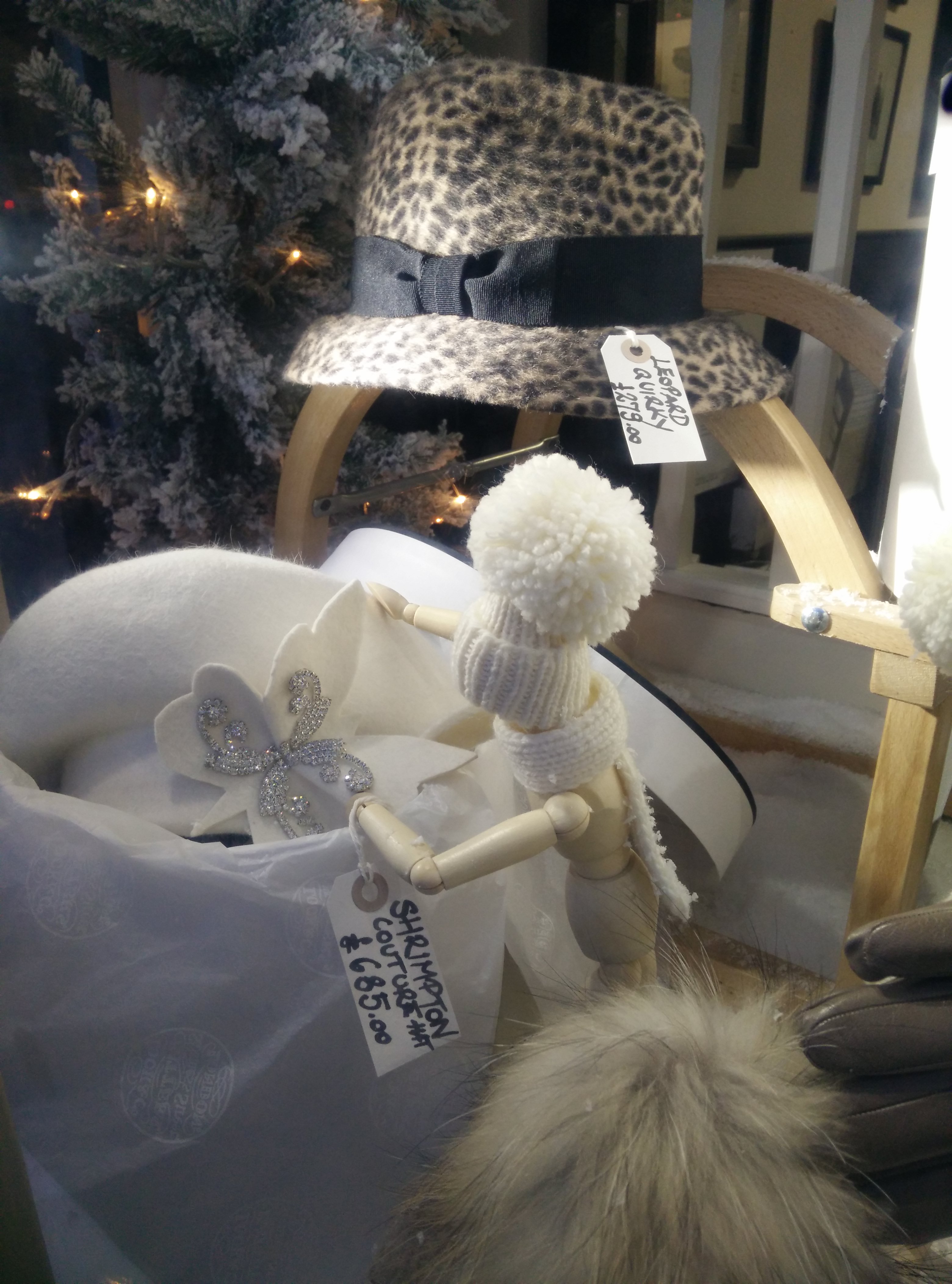 Our last stop was Floris, a perfume shop another family run shop that has lasted for centuries.  Fans of Floris were Churchill, Florence Nightingale and Marilyn Monroe (who ordered Floris Rose Geranium eau de toilette if you wondered). They offer a bespoke perfume service (if you would like to see what the experience is all about this vlog  gives a great insight to the process).  They have perfume and scented candles in some really lovely and some very unique scents.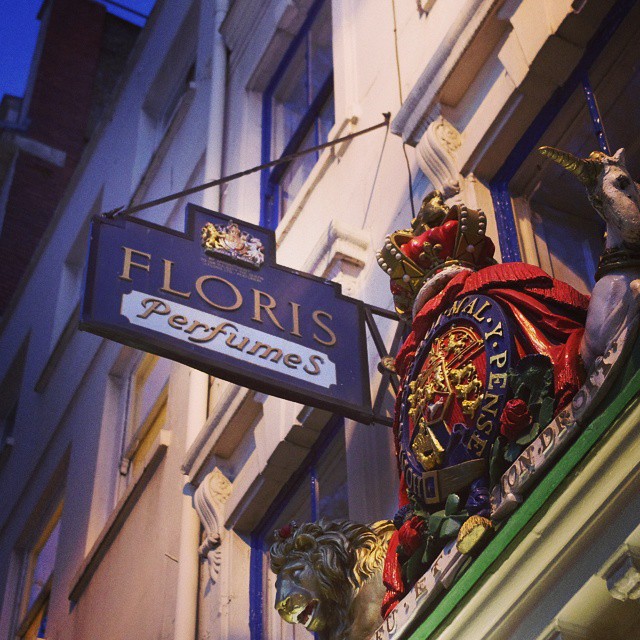 Sadly this was the end of Best LDN Walks' Christmas shopping tour London but as it was now dark it was the perfect time to wander a little more and enjoy London's Christmas lights.  It was also interesting to check my stats on the Fitbit app and see how far I'd walked, steps taken and how many calories burned.  If only my wallet could handle shopping being my main form of exercise.
I would like to say thank you to Curry's for sponsoring the walk and if you would like to learn more about the walk and how you can track your day-to-day calories and how it all adds up be sure to check out this link.