On my recent trip to Berlin I stayed at the Park Plaza Wallstreet hotel.  Located in the Mitte area of Berlin (centre) between Spittelmarkt and Markisches Museum stops on the Berlin Underground (U-Bahn) the Markisches Museum stop being slightly closer at about a 60 second walk from the front of the hotel, very convenient.
The hotel gives easy access to many parts of Berlin. It is down the road from the Markisches Museum (a museum about Berlin itself) a quick bus ride from the Friedrichshain-Kreuzberg area where there is a buzz of restaurants shops and bars.  A quick walk over river Spree on the listed Oberbaumbrücke bridge will bring you to the East Side Gallery.  From the Park Plaza Wallstreet you can also easily walk along the canal to Museum where many of the major museums are located.  The area the hotel is in is a quiet area with a couple of other hotels and a few restaurants but it is mostly offices and residence.  So location wise it is great area, if a little on the quiet side.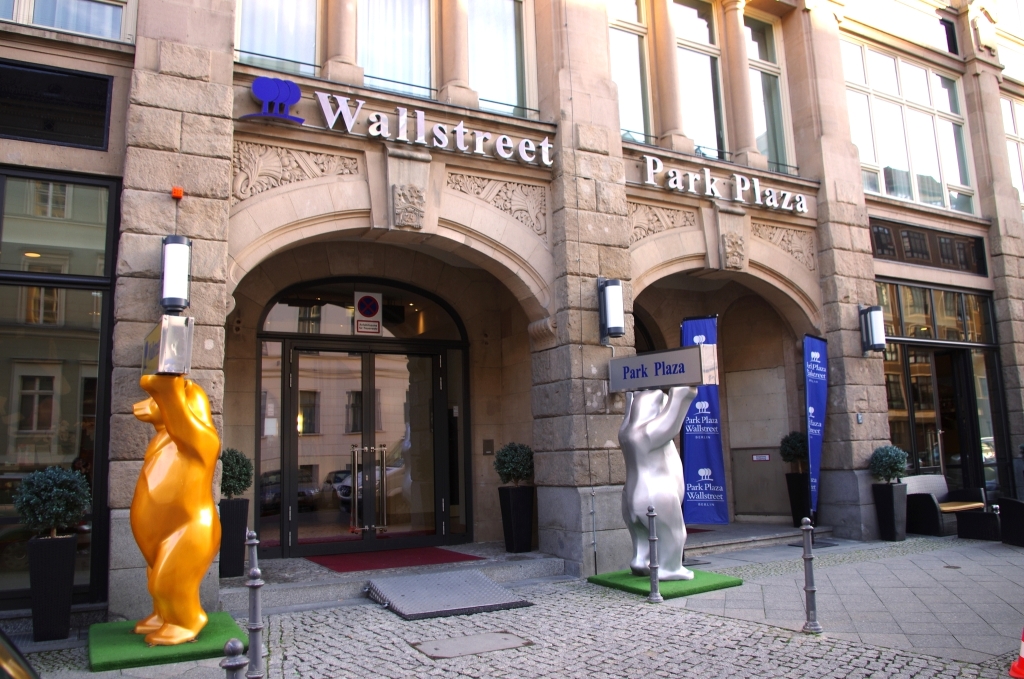 The staff at the Park Plaza Wallstreet were helpful and pleasant even when busy. This Park Plaza is located on Wallstreet and they have taken the street name and used it to theme the rooms with American money carpets which is quite quirky.  The hotel itself is quite new, in a lovely old building which as been renovated so everything is in good shape and the beds comfortable as one would expect from a Park Plaza hotel.  There is an in house cinema where they show free movies and sporting events, make sure to ask at the front desk if anything is on.  The bar has a few tables out front of the hotel which is a good place to stop in the evening for a drink in the sun.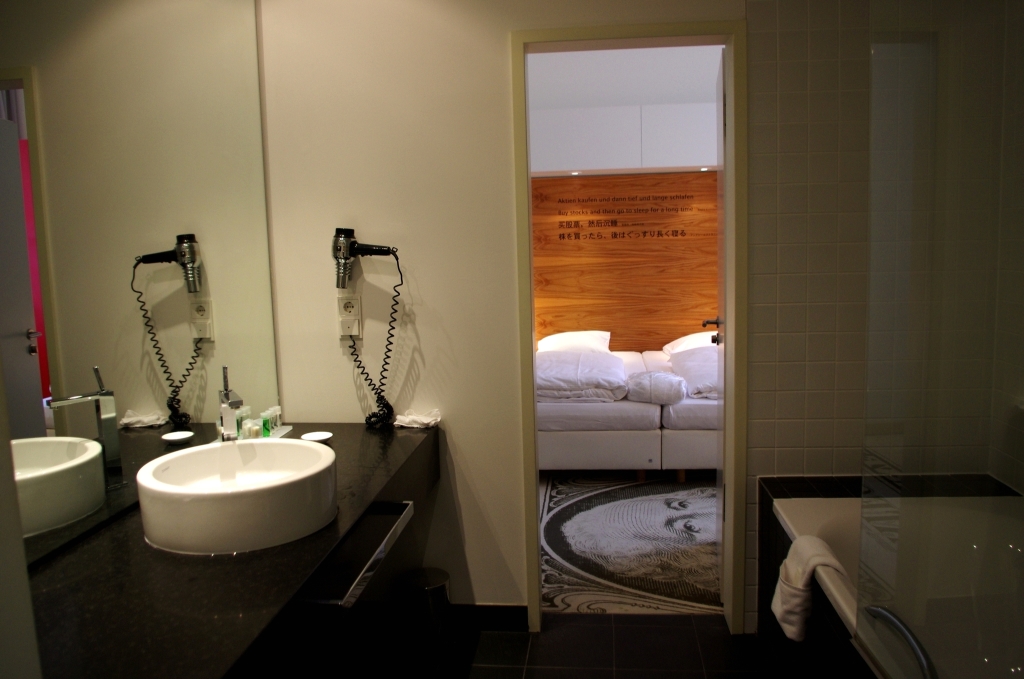 All the rooms are bright with large windows. The starting room category (called superior) aren't big but not unusually small for Europe.  The Executive rooms (this is the room type I stayed and are what you see in my photos) are larger and give a good amount of space,  especially the bathroom which is huge with a deep long tub, just what you need after a day of site seeing.

I would recommend staying at the Park Plaza Wallstreet, it is good value for money and if you are headed there this winter they are having a 50% winter sale now meaning you can snag a room with breakfast for 2 people for 65EUR!

[learn_more caption="Park Plaza Wallstreet Facts" state="open"]

Address: Wallstrasse 23-24, Berlin, 10179Website: [http://www.parkplaza.com/berlin-hotel-de-10179/gerberwa/home](http://www.parkplaza.com/berlin-hotel-de-10179/gerberwa/home "Park Plaza Wallstreet Berlin")Rooms: 167   (Rates aprox 65EUR to 180EUR)Bar: YesRestaurant: YesRoom Service: YesFitness room: YesPool: NoWiFi: Free (when I stayed there was a charge, glad to see this changed)Sauna: Yes [/learn_more] [![Park Plaza Wallstreet Berlin](http://res.cloudinary.com/bluenose-girl/image/upload/h_265,w_400/v1420405636/Park-Plaza-Wallstreet-Berlin-1_k4bps4.jpg "Park Plaza Wallstreet Berlin (1)")](http://res.cloudinary.com/bluenose-girl/image/upload/v1420405636/Park-Plaza-Wallstreet-Berlin-1_k4bps4.jpg)