Since discovering the joys of  traditional English afternoon tea years ago at The Ritz (the granddaddy of afternoon teas) I've learned that there are many options around London for Afternoon Tea, and there is something to suit every budget and taste. Each one seems to have its own personality, and I haven't found one I didn't enjoy yet!
Recently a friend and I spent the afternoon catching up over afternoon tea in 1901 (at Andaz) a restaurant next to Liverpool Street station. It is part of the Andaz hotel which is a listed building.  However you don't feel like you are in a hotel when in this building. The restaurant itself is very grand, yet comfortable and modern while still retaining the character of the old building. A very impressive combination. The room was the original hotel ballroom, and is a grade II listed room in its own right.
The service was very good, when you had their attention, and there were times getting the staff's attention wasn't the easiest thing to do.  The afternoon tea was served one "course" at a time rather than all at once on the traditional 3 layered cake stand.  The sandwiches were lovely, the scones were good, not the best I've had, but nice, lots of jam to choose from but  the clotted cream portions were a bit stingy, however when asked for more they were very accommodating.  The deserts were all lovely with a bit of an Christmas theme going on, a mini mince pie and chocolate yule logs along with some macaroons (so very good!) and other goodies.
I really enjoyed afternoon tea in this grand room which is such a calm, comfortable, luxurious space, a great place to catch up with a friend over some great food.  I will be making more plans with friends to meet up here soon.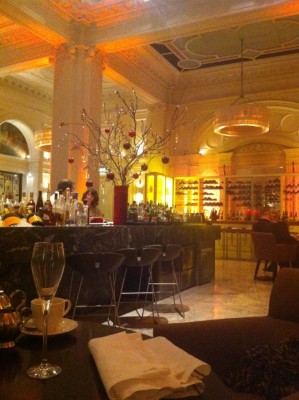 [![Enhanced by Zemanta](http://img.zemanta.com/zemified_a.png?x-id=00dfd639-6c85-4cf1-9c4a-0f9fe71fcfc8)](http://www.zemanta.com/ "Enhanced by Zemanta")