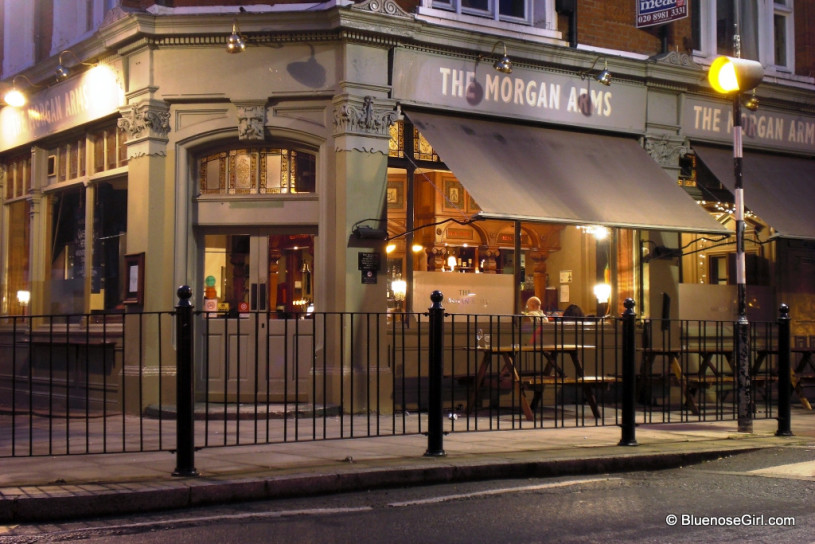 Over the past 5 years in London I have come across some pubs that are real gems.  Here is a round-up of some of my favourite pubs in the various parts of London I have lived since moving here.
My current local is The Morgan Arms pub in Bow is lovely, it is a gastropub, but the restauranty bit is kept to the back which keeps the front bit feeling more like a traditional pub.  The staff are friendly, one even came out from behind the bar to help me carry my drinks to the table (you don't get that everywhere in London!).  The food is high quality, with a rotating seasonal menu, and the ales and ciders change around so you can have an old favourite or there is always something new to try.
The Castle is a great pub down the road from Holland Park tube station, on the corner of Holland Park Avenue and Clarendon Road. This was my old local when I lived on Clarendon Road in Notting Hill. It has a dark feel to it, but it is friendly, and busy. If you are lucky enough to grab of the cosy areas in the back it is a pub it's a fantastic spot to spend an afternoon catching up with friends.  The Castle is also a great place to meet before heading over to Cool Monkey across the road for some great Thai.
The Ladbroke Arms is a pub also near Holland Park Tube station, tucked away behind a police station on Ladbroke Road.  This small pub that is a great escape from all the tourists on near by Portobello road.  The crowd here is a good mix of the old and new locals.  The serve lovely food, which is very popular with the regulars.  In writing this post I found out that the The Ladbroke Arms and The Morgan Arms pubs are connected which doesn't surprise me as they both have a great feel, are friendly, comfortable, and neither have music blasting so one can really have a good catch up with friends.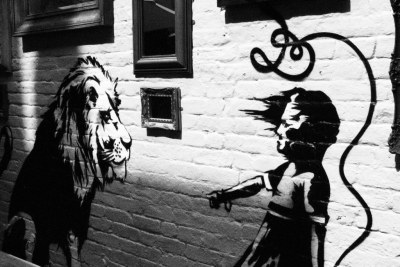 Princess of Wales is one of the pubs I went when I lived in Camden (my local was the Hawley Arms nuf said) and was looking to escape the Camden crowds.  The Princess of Wales is a pub with a traditional feel to it, except for the Banksy, in the really nice enclosed garden out the back, a bonus for those into their graffiti art.  As with all my other favourites the pub has a friendly feel to it, the staff are welcoming and those in the pub are a mix of young and old who are all just relaxing with friends.  The pub does meals or if you just want some chips or dessert they are equally accommodating.
The Landsdowne, also in Primrose Hill has a different feel to it than the Princess of Wales, to me it almost feels like an old school room.  The crowd here is on the younger side and a celebrity sighting is not uncommon here.  However there is more to this pub than celebs, the food is fantastic, especially their pizzas for which they are known for. It is a buzzing place full of friends enjoying great food around the good-sized tables.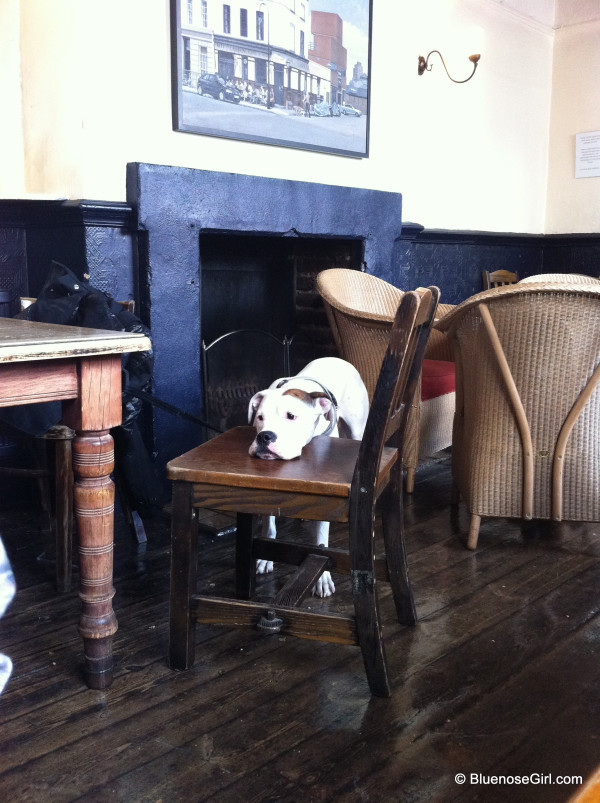 Hampstead having a village feel to start with is full of pubs that make you forget you are in London.  You shouldn't have trouble finding a great put in this area, but here are a few to start you off with.
The Garden Gate next to the Hampstead Heath Overground station is a good place to end a ramble on Hampstead Heath.  If it is a nice day there is a large garden, and if it's a colder day find a cosy corner inside this warm welcoming pub.
Near the Hampstead Tube station are The Flask and the Holly Bush pubs, both chilled out pubs where you can relax with a pint with very different personalities.  The Flask is a good size rambling pub where you are sure to find a site and a nice ale or wine on the menu.  If you go to the Holly Bush the hard work is over once you find the pub as it is up a set up steps down a little residential lane. The Holly Bush (despite being a Fullers pub) feels like it hasn't been touched in about 60/70 years, in that the interior has retained all its charter and historical charm and so is quite unique.  This unfortunately also means the lighting is poor (a pet peeve of mine), however the sticky toffee pudding makes up for this.
No matter where you are in London if you look around the corner from the main street  you are sure to find a great local pub where you can spend hours relaxing, eating and drinking with friends.  There are many more I could list here but hopefully these will get you started.
[