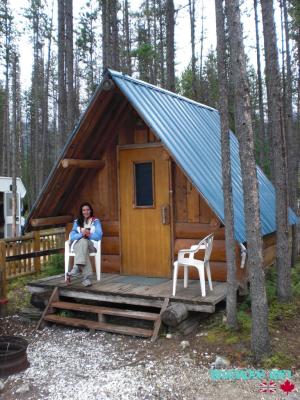 On my last visit to Western Canada with English boyfriend we planned the road trip of a lifetime from Vancouver to Calgary via the Rocky Mountains.  We would see mountains galore, stunning glaciers, huge waterfalls and lots of wildlife.  There were 2 animals I especially wanted  to see because this was Nathan's first trip to Canada and I wanted it to be unforgettable and because I have never seen them in the wild myself – bears and moose!
To up our chances of seeing bears we decided to take a river boat trip in the Blue River area of British Columbia.  This is also where we would have one of 2 camping experiences (for those who know me, neither involved actual tents).   After checking into our hut accommodation we rented a couple of bikes and went off to explore the area and do some blueberry picking.  As it was the end of summer, a time when bears gorge on berries getting ready for winter hibernation, we managed to freak ourselves out that bears were in the bushes nearby enough times we decided it best to head back to the safety of our little hut.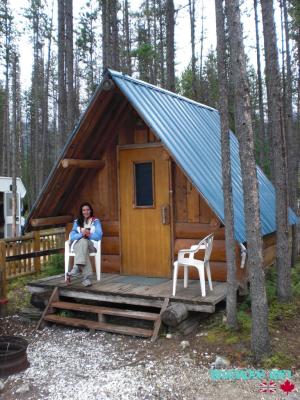 The next day we headed to River Safari for our boat tour.  The set up at River Safari is great, they have boats which can go into very shallow water for getting close to the shore for better viewing, kit to keep you dry and warm and a friendly dog who loves going along for the ride.  The guides radio each other sightings of bears to keep each other informed about the best part of the river to head to, upping chances of your seeing a bear.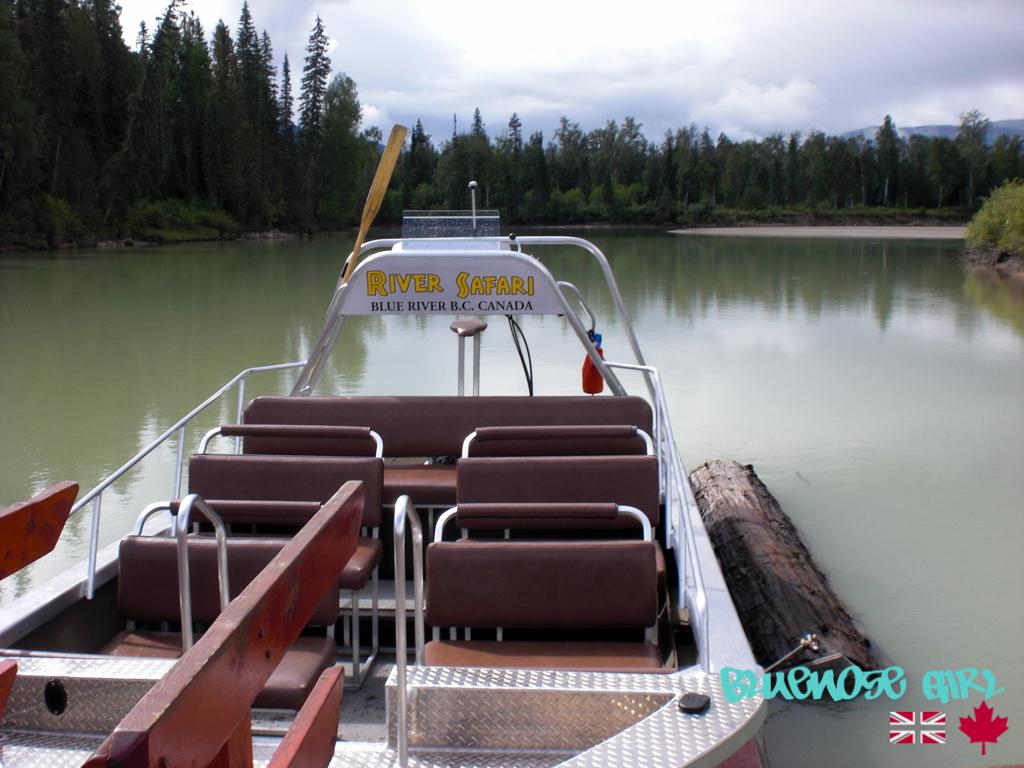 The area is stunning and the boat ride is a fun one, all making for a fantastic experience.  But we were here to see bears, as was everyone else in the boat.  All of us scanning the shore for sign of movement, craning our necks, cameras at the ready waiting anxiously to see the beautiful animals in their natural habitat.
Our guide steered the boat closer to shore, then cut the motor and pointed.  Not a word was murmured as we were all memorized by the site of a real live black bear foraging for food among the rocks of the shoreline.  Lifting rocks, checking out the water's edge, all the while seemingly oblivious to a boat full of people watching her.  She moved her large body across a log graceful as a tight rope walker and as she moved along the shore line we followed along in the boat until she disappeared back into the forest. Amazing.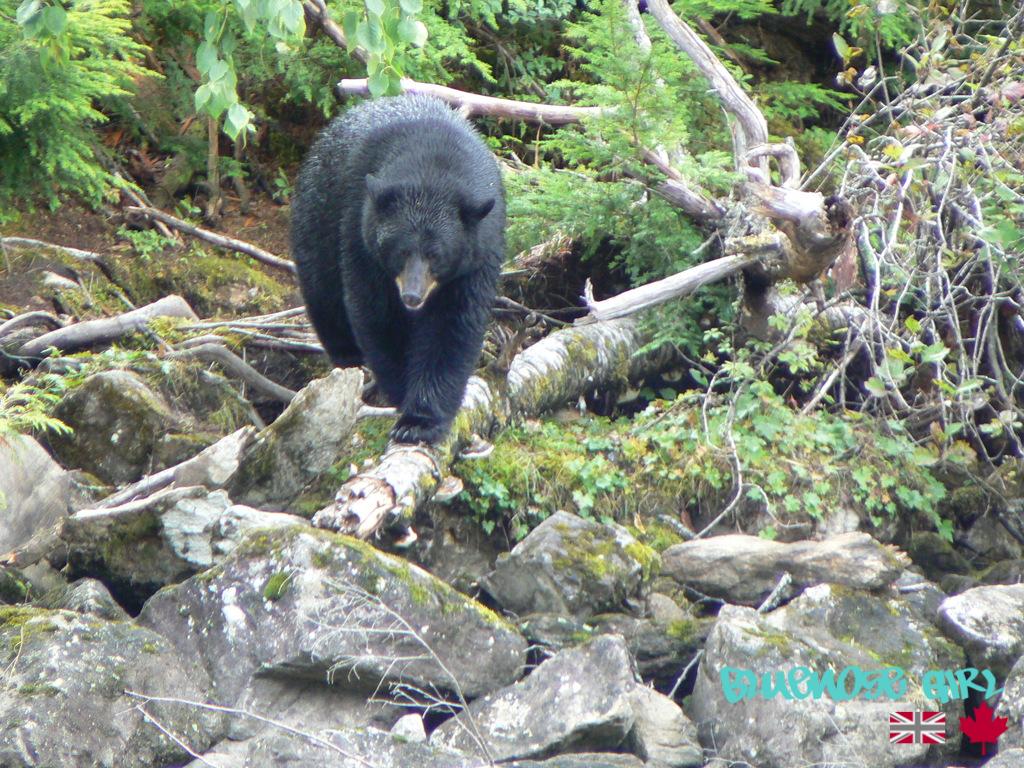 It was a great experience, along with the bear sightings we learned about the area, stopped off to see a beautiful waterfall and we even saw a second bear on the way back to base.  This bear didn't stay in sight for long but left everyone in the boat feeling satisfied with their experince.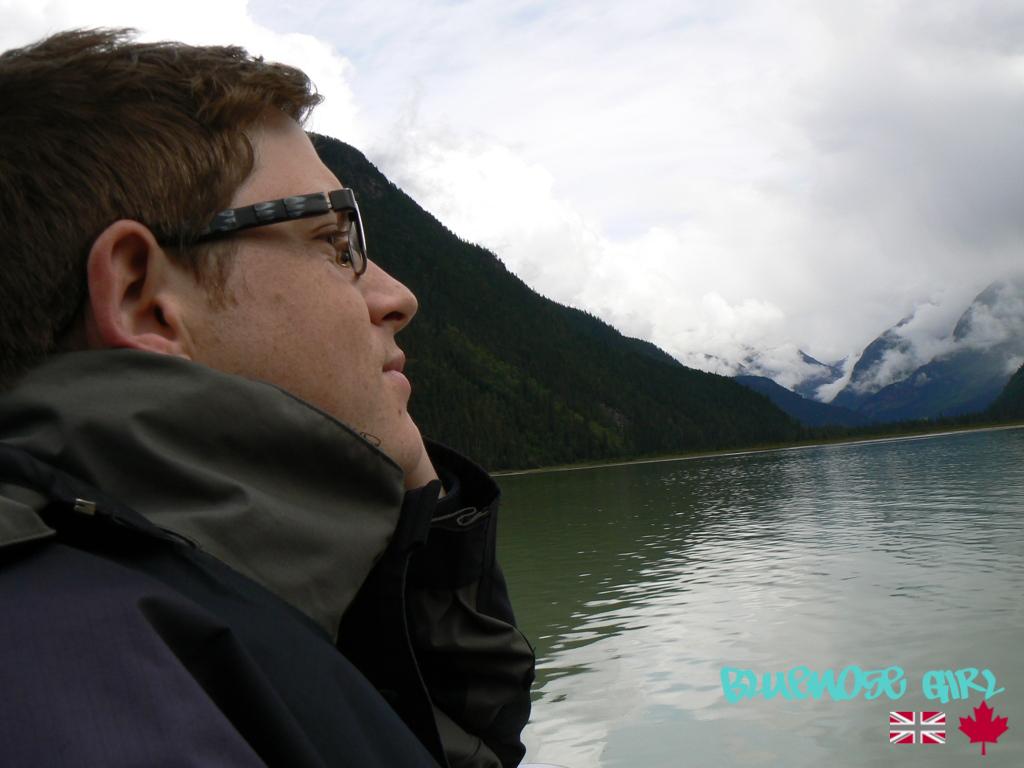 After our second night in Blue River we continued on our journey.  About an hour into that day's drive we came upon what looked like traffic in the middle of nowhere!  It turns out these cars were slowing down and pulling over because there were bears on the side of the road foraging for berries; it was a momma bear and her 2 cubs!  I rolled down my window but stayed in the car, these were wild bears with only a ditch between me and a big protective momma bear.  Not everyone seemed to think that staying in their car was a good idea, one man even decided that of all the space along the side of the road in front of my car, in front of  me was the spot for his photo-op.  I may have had second thoughts on opening the door for him if the bear charged!
This "traffic" which we called animal jams happened a few more during our time in Banff and Jasper national parks. Animal Jams are a good heads up that there is either an animal or a photographic opportunity of some sort worth stopping for.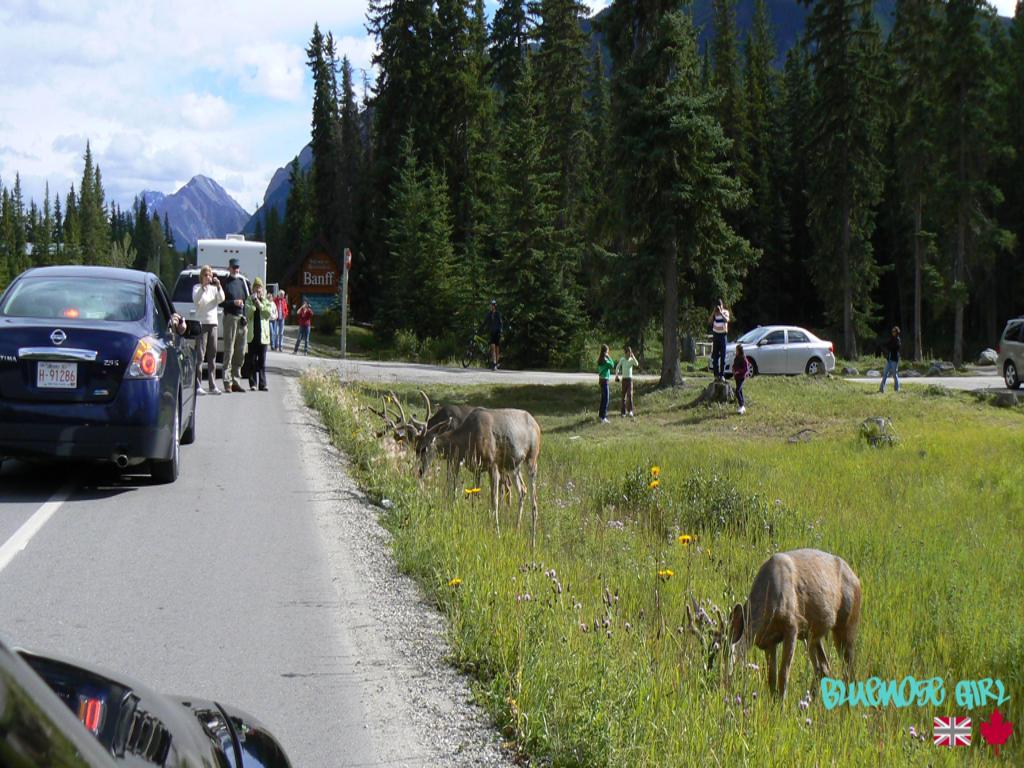 As for our luck with moose sightings, well we thought we saw one driving down a remote road until we got a little closer…..